pecifications
1.Single-Screw Plastic Extruder
2.High Speed:10-100m/min
3.High quality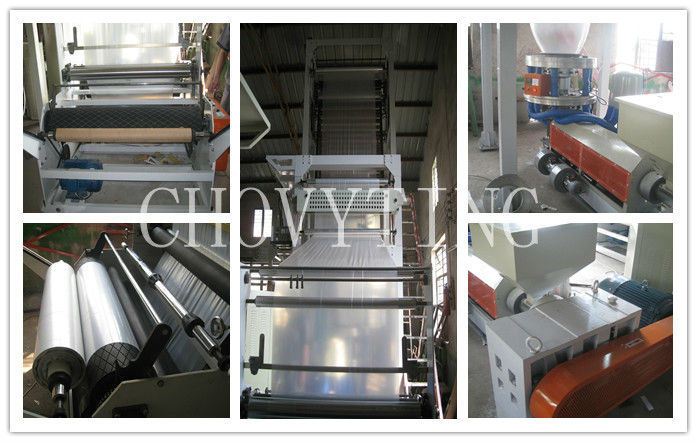 film blowing machine for PE FILM
This machine is used for blowing plastic film like HDPE,LDPE,LLDPE, etc .The extruder system has super strong mechanism intensity,well capability and wear,screw and die special design. For increasing the capacity.
Optional
1. AUTO LOADER 2. CORONA TREATER
3. AIR COMPRESSOR 4. MANUAL MECHANICAL SCREEN CHANGER
5. DOUBLE WINDER 6. DIE ROTARY DEVICE.
Parameter:

Type

CP-50HL

CP-55HL

CP-60HL

CP-65HL

Suitable raw material

HDPE LDPE LLDPE

Film width

200-600mm

400-800mm

500-1000mm

600-1200mm

Film thickness

HDPE

0.009-0.05mm

0.009-0.1mm

0.009-0.1mm

0.009-0.1mm

LDPE

0.02-0.1mm

0.03-0.1mm

0.03-0.1mm

0.03-0.1mm

Max.extrusion output

HDPE

50kg/hr

55kg/hr

65kg/hr

70kg/hr

LDPE

55kg/hr

65kg/hr

70kg/hr

75kg/hr

Extruding unit



Screw diameter

Φ50

Φ55

Φ60

Φ65

Screw L/D length

30:1

Cylinder material

Bi-Metallic/SACM-645 with nitrided treatment

Cylinder cooling

370W*3

370W*3

370W*3

370W*3

Temperature control

3 groups

3 groups

3 groups

3 groups

Extruding motor

15kw

18.5kw

22kw

30kw