Used for blowing the plastic film of low density polyethylene(LDPE), high density polythylene(HDPE)

The unit extruder, barrel, screw adopt high-quality steel, nitride tight handling and precision machining, with the best hardness and corrosion resistance, a specially designed screw high yield, good plastics. Applicable to the blowing high and low -density polyethylene (HDPE, LDPE), linear low density polyethylene (LLDPE), such as plastic film, widely used in food, clothing, garbage bags, vests bags, and other civil and industrial packaging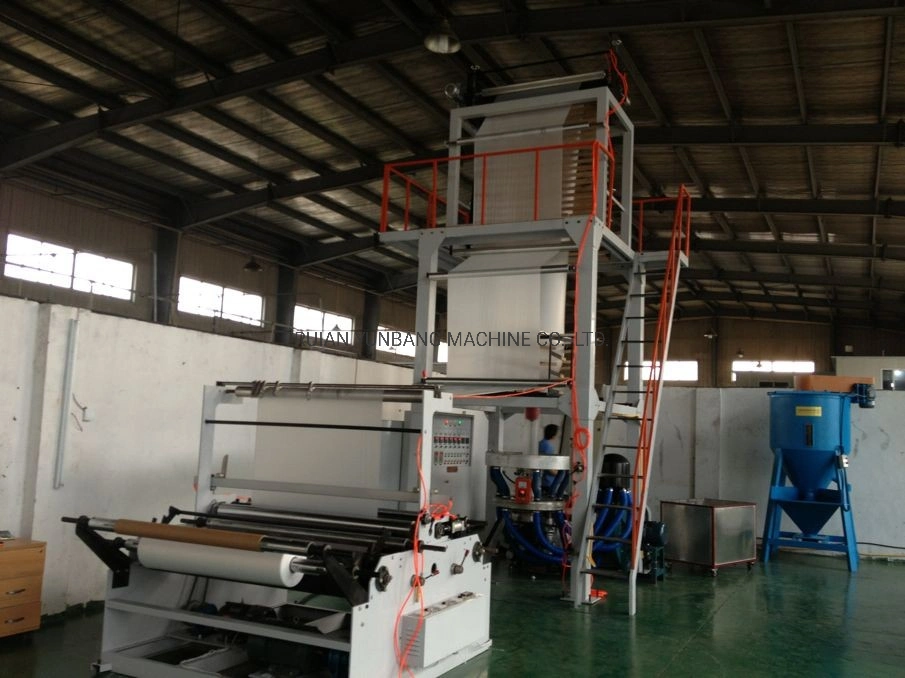 FEATURES:
1. The main motor adopts frequency control of motor speed to improve the speed regulating stability of main motor and save electricity.
2. The screw and material barrel adopt 38 CRMOALA which has been nitrogen treated
Material of screw and barrel: 38CrMoAlA Polished with Nitride Treatment
Hardness of heat treatment: Screw HV≥ 740, barrel HV≥ 900
Depth of hardening: 0.6-0.7mm: 0.6-0.7mm
Brittleness grade: Bigger than 2 grade lower than2 grade
3.

The traction frame adopts lifting type.
No matter what size the film is, big or small, it can achieve the best effect of cooling.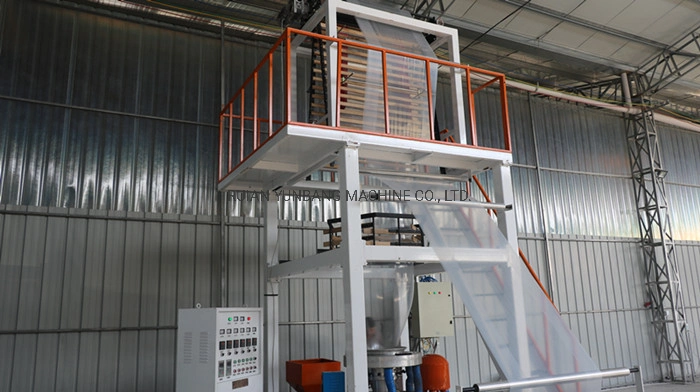 4.
The die adopts
advanced central head feeding spiral runner molding technology.
5.
Molding and cooling of the film adopts air blower and air ring with high-property, low air pressure, and large air volume.
6 The extruder adopts corrugated
screw with oblique barrier
and mixing head, which assures stable and reliable performance, high output and low energy consumption.
7. It adopts friction type double surface wind-up, which has improved the flatness of the film, and made the coiling structure tight. It is easier to operate. A length metering device is installed, which makes the length of the film accuracy.
8. Edge cutting device: With 2 pcs edge slitting blade or 2 pcs center slitting blade. Just For double winder
9. The electrical components are domestic famous brand or world famouse brand
10. The Invrter, Delta brand ( in the world, it has many salers sevices. Like Egypt -Cairo, Iran-Tehran, UAE-Dubai, Patistan-Karachi, Chile -Santiago, peru-Lima...Many many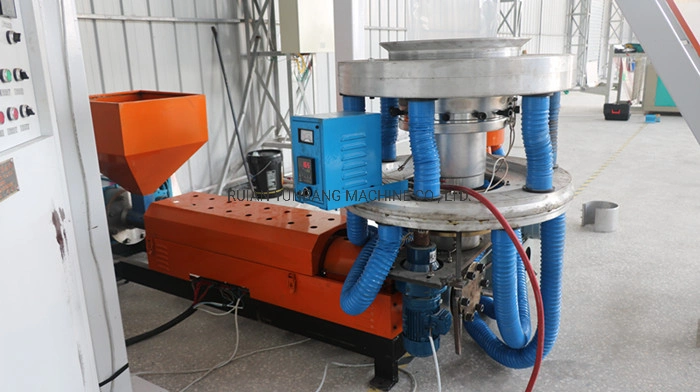 Main Technical Variables:
MODEL

SJ-65-1350
SUITABLE MATERIAL
HDPE/LDPE/LLDPE
FILM WIDTH RANGE
550-1200mm
FILM THICKNESS
HD0.008-0.06mm
LD0.008-0.12mm
MAX OUTPUT
70kg-90kg/hr

EXTRUDER UNIT

SCREW DIAMETER
65
SCREWL/D RATIO
L/D 30/1
SCREW MATERIAL
38CrMoALA
SCREW ROTATION SPEED
25-100r/min
DRIVING MOTOR
30HP(22KW)
TEMPERATURE CONTROL
4ZONE
HEATING CAPACITY
5KW
BARREL COOLING FAN
0.17HPper oneX3 (130W)×3

DIE UNIT

DIE HEAD DIAMETER
HD100-120mm
LD200-250mm
BLOWER
7HP(5.5KW)
HEATING CAPACITY
3KW
TEMPERATURE CONTROL
3 ZONE
DIE HEAD MATERIAL
45Cr

TAKE-UP UNIT

TAKE-UP ROLLER WIDTH
1350mm
EFFECTUAL TAKE-UP
1200mm
TAKE-UP MOTOR
2HP(1.5kw)
TAKE-UP LINE SPEED
80m/min

WINDING UNIT

WINDING ROLLER WIDTH
1350mm
EFFECTUAL WINDING
1200mm
WINDING MOTOR
2HP(1.5kw)
TOTAL HEIGHT
6100mm
The machine picture: