PVB film recycling granulating machine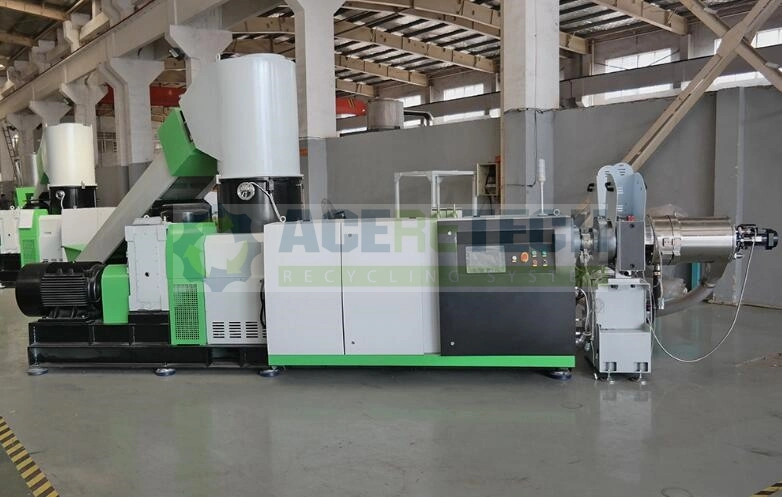 The ACS series compacting and pelletizing system combines functions of compacting, plasticization and pelletizing into one step, applied in the plastics recycling and pelletizing process. ACS system is a reliable and efficient solution for plastics film, raffia, filament, bags, woven bags and foaming materials granulation.

Final product are in the form of pellets/ granules, can directly put into the production line for film blowing, pipe extrusion,plastic injection, etc.

Specifications
| | |
| --- | --- |
| Model Name | ACS series |
| Recycling Material | HDPE, LDPE, LLDPE, PP, BOPP, CPP, OPP, PA, PET, PC, PS, EPS |
| Final Product Shape | Pellets/ Granules |
| System Composition | Belt conveyor, compactor, single screw extruder, filter/screen changer, water-ring/strand/underwater cutting system, drying and packing system. |
| Output Range | 160-1200kg/h |
| Feeding Device | Belt conveyor (standard), Roll-hauling device (Optional) |
| Compactor Volume | 300 -1400 Liters |
| Screw Diameter | 80mm-180mm |
| Screw material | 38CrMoAlA nitride steel( SACM-645), bimetallic ( Optional) |
| Screw L/D | 36/1 |
| Barrel's Heating | Ceramic heater |
| Barrel's Cooling | Fans, water cooling |
| Vacuum Degassing | Double vacuum chambers |
| Pelletizing Type | Water-ring/strand/underwater |
| Voltage Standard | Depends on project's location |
| Optional Devices | Metal detector, chiller, etc. |
| Delivery Time | 120 days after order takes effect. |
| Warranty | 13 months since date of bill of lading |
| Technical Service | Project design, suggestion on factory construction, installation and commissioning |

Working steps of ACS Series compacting and pelletizing system
1. Feeding: as standard design, plastic scraps such as film, filament, raffias conveyed into the compacting room through belt conveyor; to handle rolls' scraps, roll hauling off device is an optional feeding method. Motor drives of conveyor belt and hauling device cooperate with ABB inverter. Feeding speed of conveyor belt or roll hauling off is fully automatic based on how full the compactor's room is. Metal detector can be combined with belt conveyor, and can interlock with control system, to warn and stop the system, in case that metal is found in feeding section.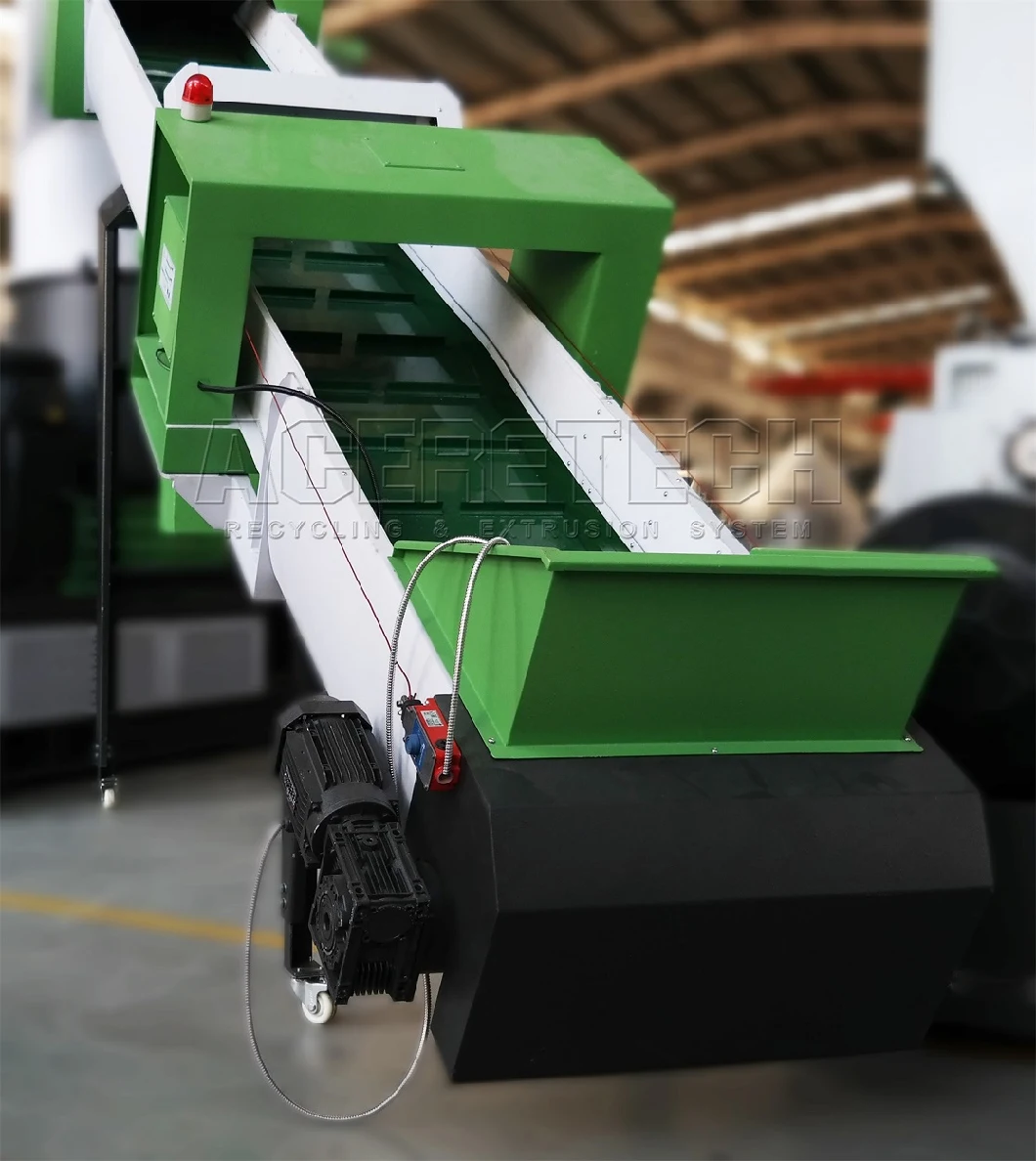 2. Crushing and compacting: the rotatory blades of compactor will cut up incoming scraps. Frictional heating which caused by high speed rotatory blades will heat and let scraps shrink. Optimal designed guide structure compacts the material and directs it into extruder screw. Crushing, drying and compacting the material enables a fast and stable feeding from the compactor directly into the extruder.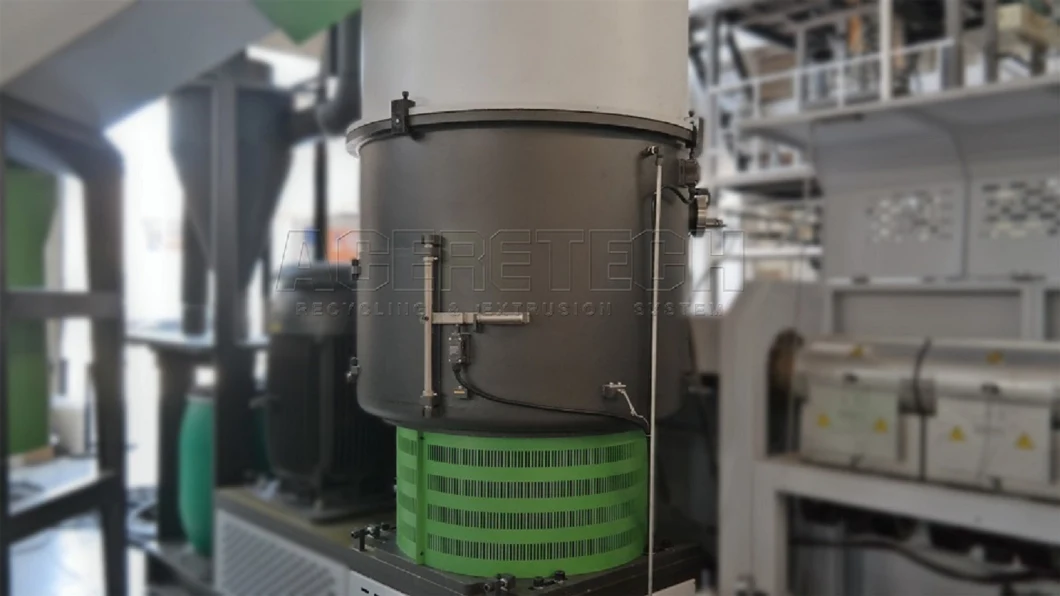 3. Plasticization and degassing: A specialized single screw extruder applied to gently melt the pre-compacted material. The plastic scraps will be well melted, plasticized in a 36D processing section. With double-zone vacuum degassing system, volatiles such as low molecular and moisture will be removed efficiently, especially suitable for heavy printed film and material.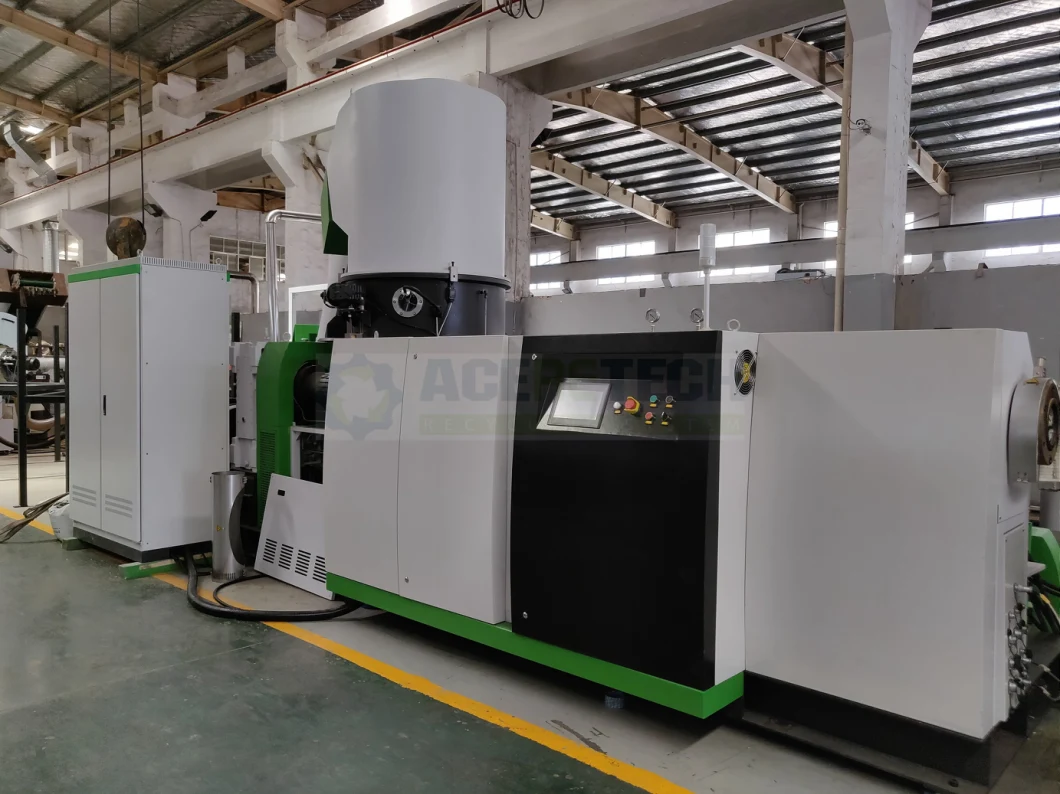 4. Melt filtration: Non-stop screen changer, double-plate type, double-piston type, double-piston type with function of back-flush.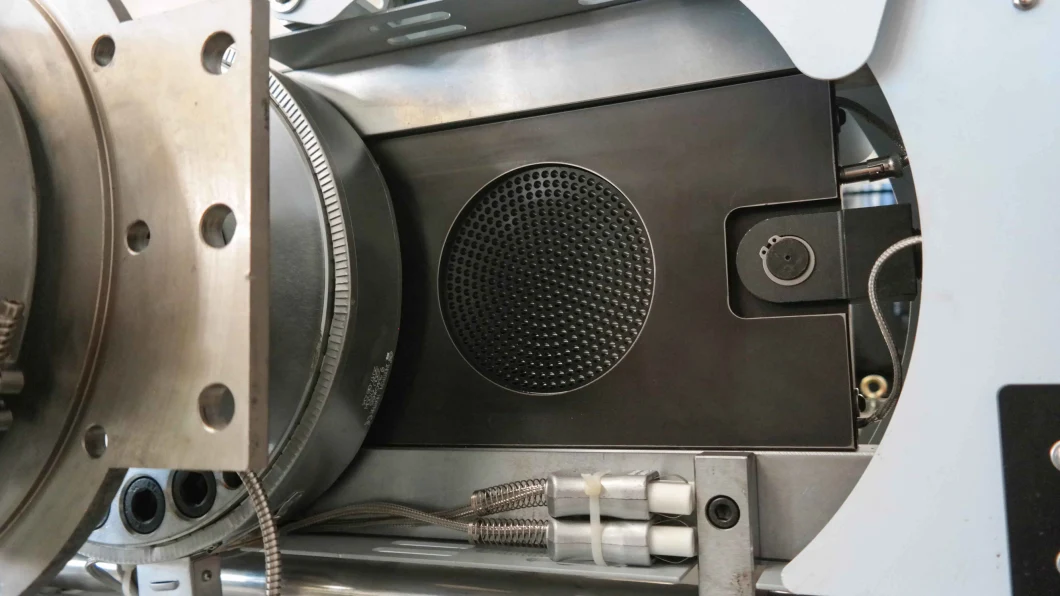 5. Pelletizing: die-face water ring pelletizing system set as the standard granulating method in ACS system. Self-adjusting pelletizing head for the best granulate quality and long uptime thanks to consistently correct blades pressure. RPM of rotatory blades is automatic based on melt extruding pressure. Advanced dewatering vibration sieve combining with horizontal-type centrifugal dewatering present high performance dried pellets.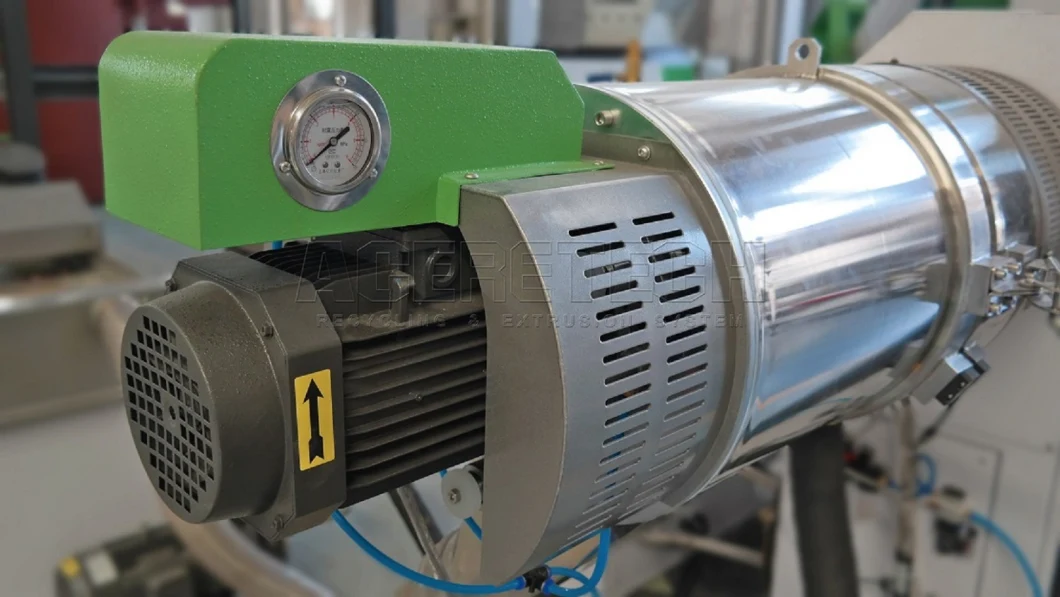 Main technical parameter:
Machinery size

Data of compactor

Data of single screw extruder

Throughput rate(Kg/hr)

Efficiency volume(Liter)

Motor power(Kw)

Diameter of screw(mm)

L/D

Motor power(Kw)

ACS300/80

300

37

80

36

55

160-220

ACS500/100

500

55

100

36

110

300-380

ACS800/120

800

90

120

36

132

450-480

ACS1000/140

1000

110

140

36

185

500-650

ACS1200/160

1200

132

160

36

250

800-1000

ACS1400/180

1400

315

180

36

315

1000-1200