Jwell - Bimtallic Twin Screw and Barrel for Plastic recycling Making Extrusion mahchine
Bim
tallic Screw and Barrel for extruder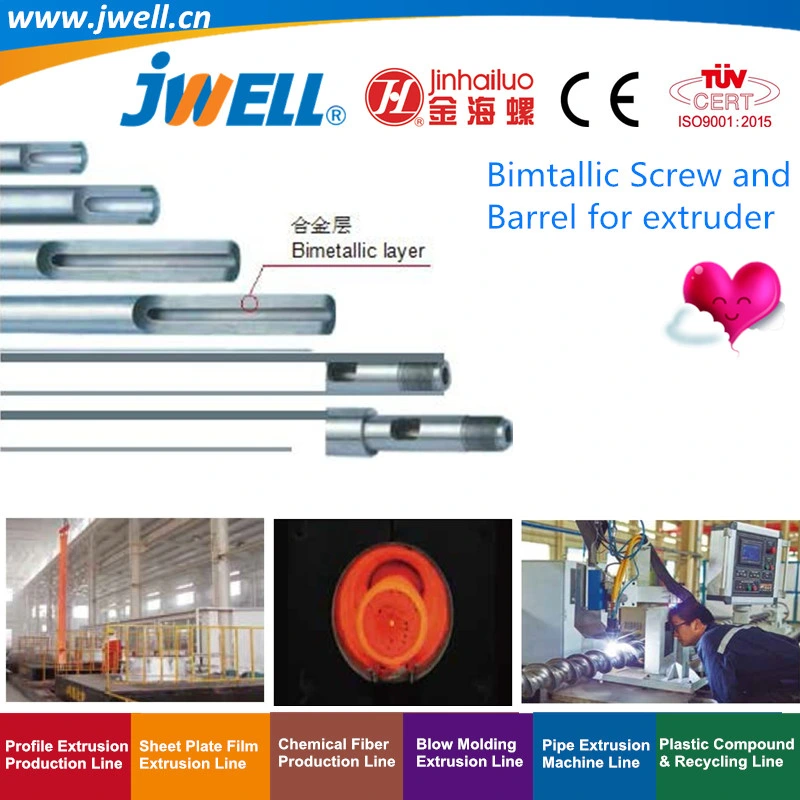 Material
1)Base material of bimetallic barrel:
45# 40Cr
2)Bimetallic type:c
entrifugal casting
3)Application:
for injection molding machine and extruder
4)Products range:
Inner diameter ø12- ø350mm
5)Effective length:
12000mm
6)Nitrided layer thickness:
0.50-0.80mm
7)Hardness:
HV960
8)Straightness:
0.015mm/m
9)Suitable plastic material:
PP, PE, ABS, AS, PS etc.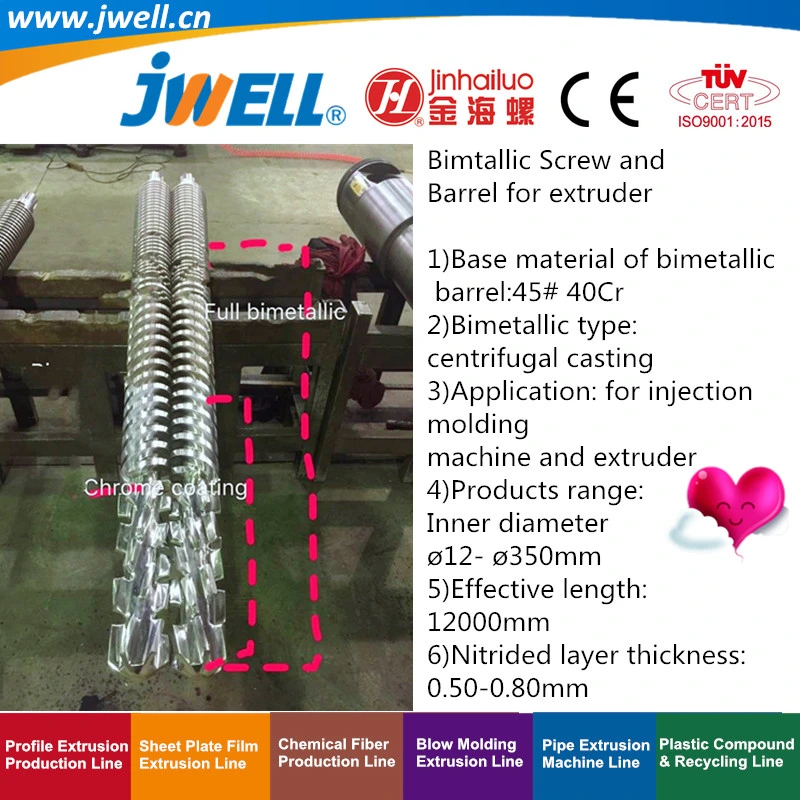 For our bimetallic screw ,we have adopted a new technology of surface hardening process by the whole screw surface insted of only hard facing the screw flights by PTA treatment.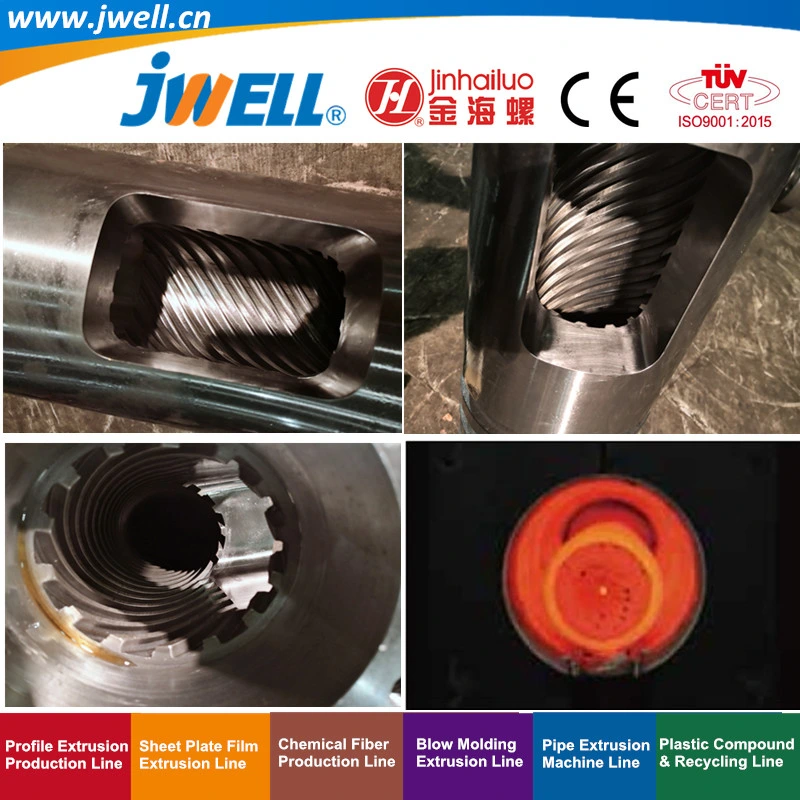 For bimetallic barrel ,we have raised its tungsten car-bide content to 30%and 50% from the previous 10% of tungsten carbide and increased the processing length to 4000mm from the previous length of 3000mmm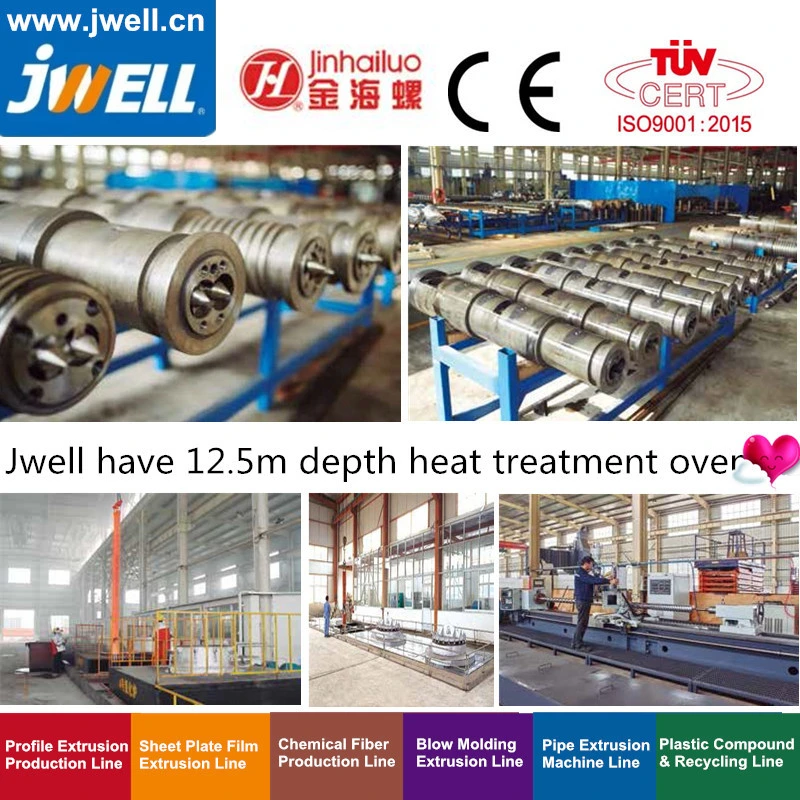 Technique
data
1)
Depth of nitration layer: 0.05~0.08mm
2)
Hardness of nitration: 900~1000hv
3)
Fragility of nitration: less than grand one
4)
Roughness of the surface: Ra0.4
5)
Linearity of the screw: 0.015mm/m
6)
The surface hardness of chrom plating after nitrogention:more than 950hv Chrome-plating layer thickness:0.025~0.085mm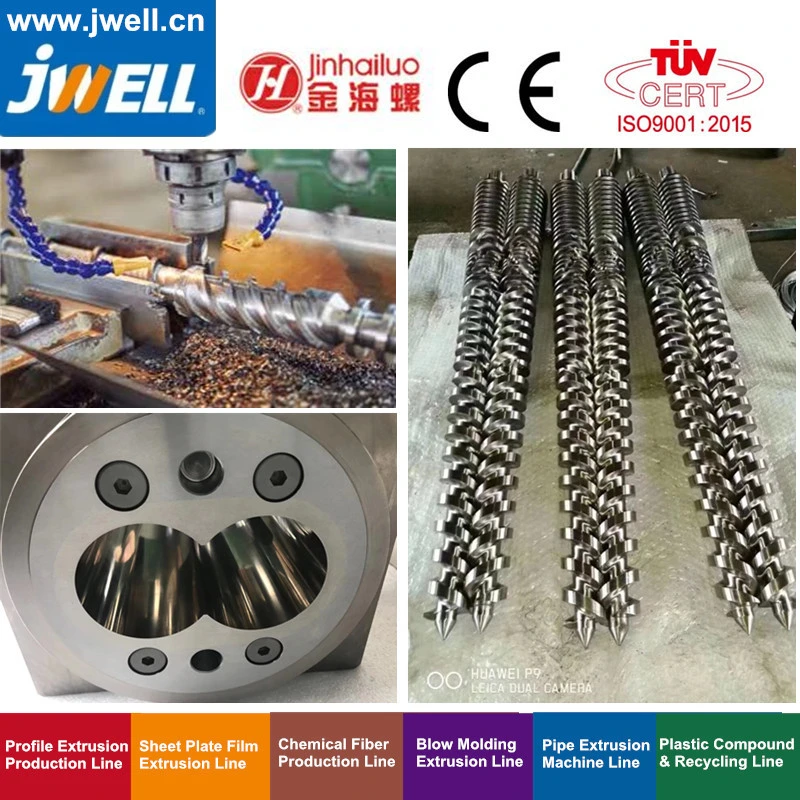 Scope of application:
WPC PVC,WPC PE,Super high molecular sheet,1:2 high Calcium buckle,high Calcium pipe,high Calcium Profile,soft PVC sheet,XPS-PVC etc. PP,PE,ABS,PVC,raw material, pelletzing,pipe,profile,sheet etc.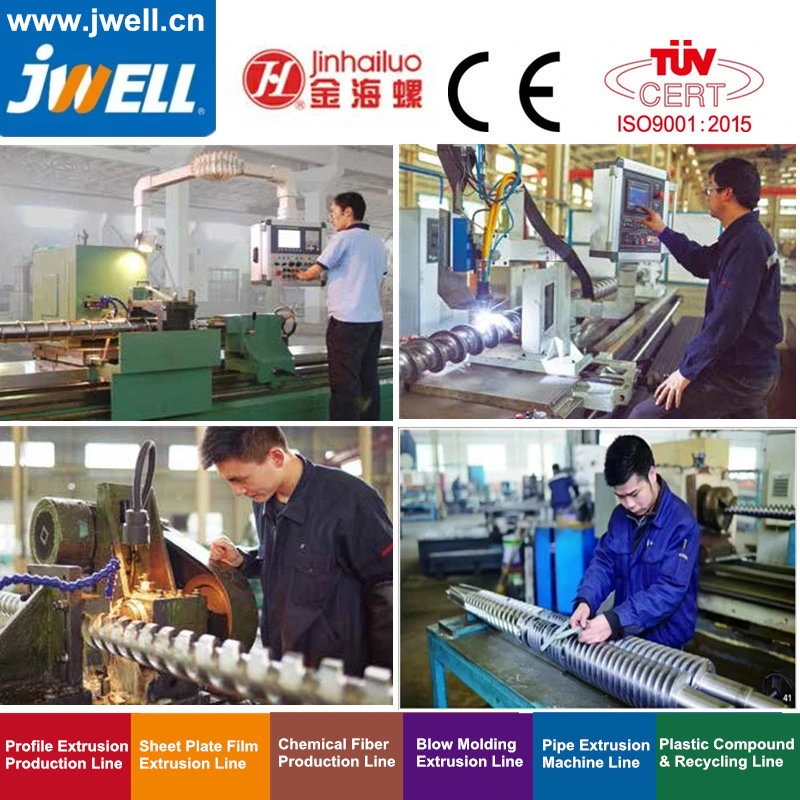 Advantages :
The high-efficiency screw and barrel designed by JWELL company adopts optimized screw structure it can sepa- rate the material into solid and liquid part quickly, and increase the temperature uniformity of melted material, reduce the internal stress of raw material, achieve high capacity with low speed.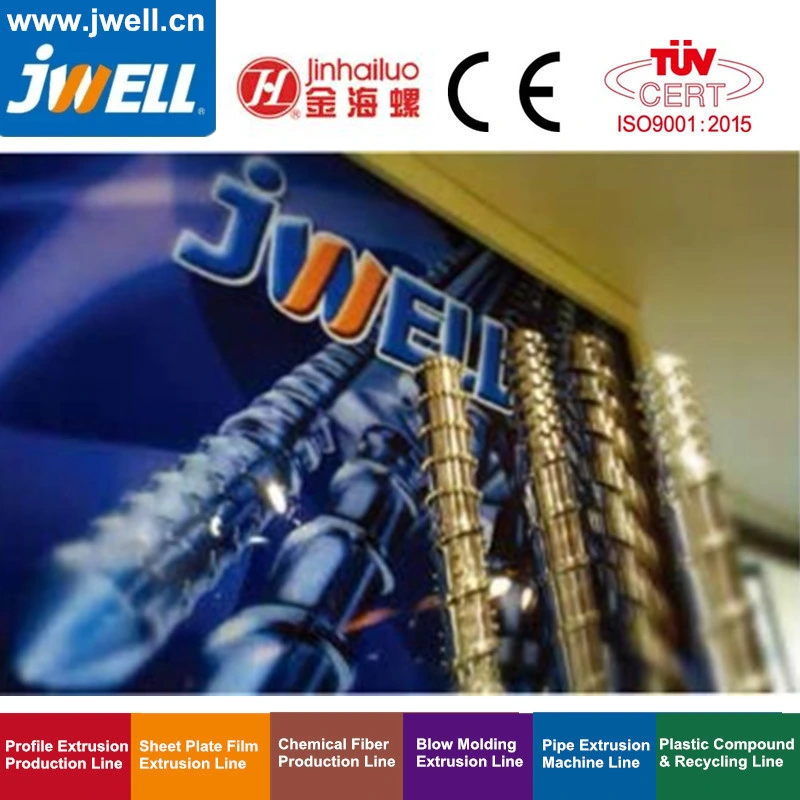 We only choose qualified supplier
--Jwell excellent partner
We work closely with world famous brand,your equipment can also be equipped with any compond brand as you wish.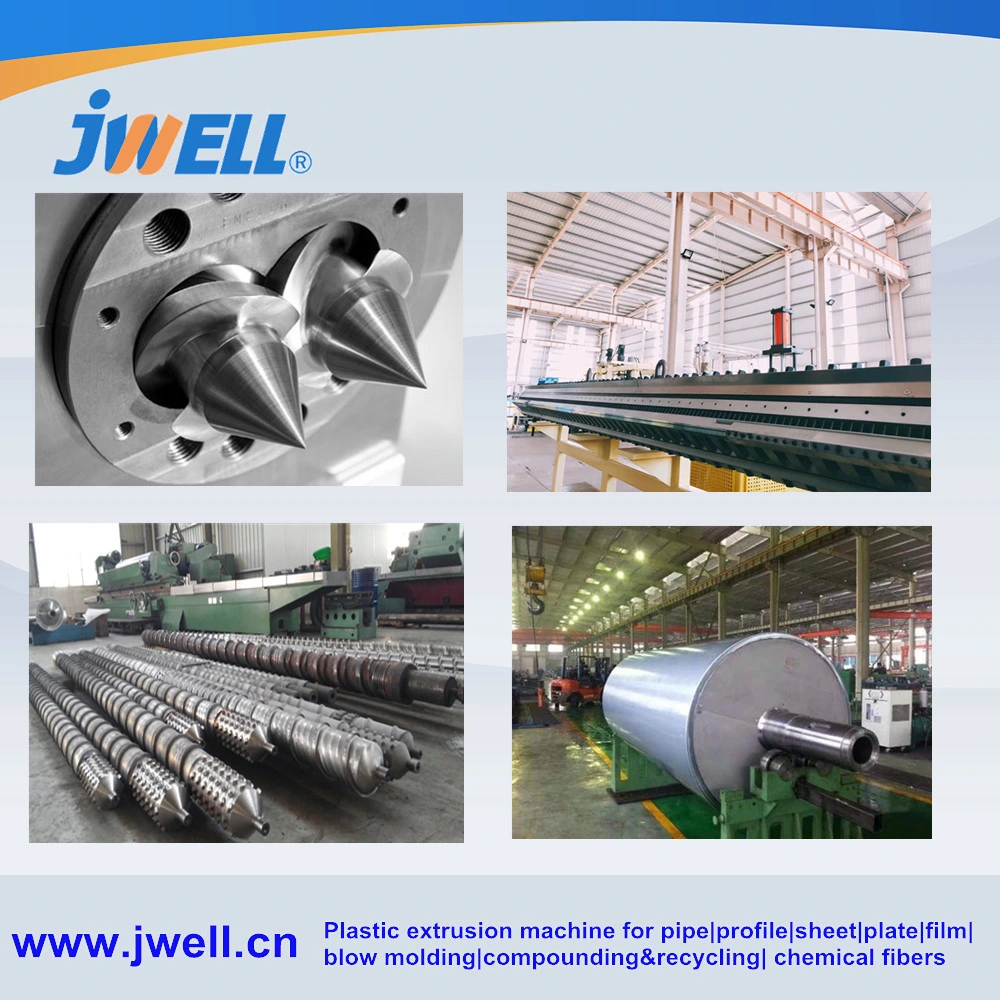 All Key parts: screw&barrel,
T-die, roller and downstream equipment are made by Jwell factory!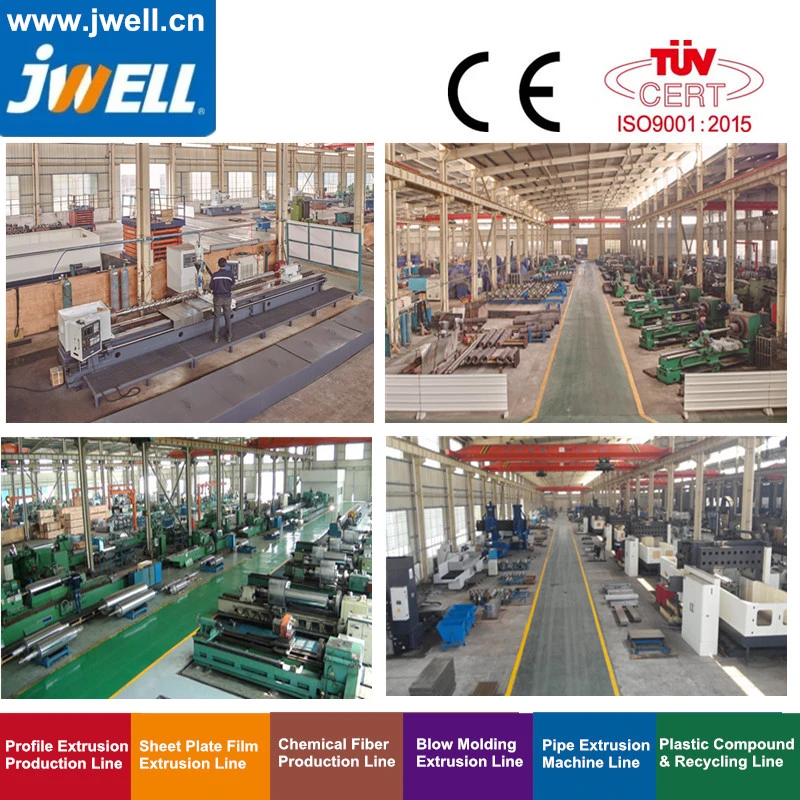 C
ompany Information
Suzhou Jwell Precision Machinery Co., Ltd , not only focuses on the design and manufacture of the roller of plastic plate sheet , meets the requirement of the clients, but also supplies the high quality
screw and barrel
for the plastic
extruder
business area.
Since 1978 our
Zhoushan Jwell Screw&barrel Co.,Ltd
,we have accumulated more than 30 years
'
experience and techniques in made screw and barrel ,w
ith two generations'hard working,the brand of
jinhailuo
have win high appreciation because of its high quality and good service.Our company meet the need of customers in home and abroad with new idea and advanced technique.
The screws and barrels made by our company are highly precise because we use good alloy material, and it processed by the latest technology and inspection equipment of European and US.
So our production is endurabale and wearable.
We recently built a 12.5m depth heat treatment oven and we equipped many large size screw and barrel manufactruing .At present the max .diameter we can process diamter 350mmm. We will utilize the advantages of our modern equipments and processing technology to gain more suppports from our customers through our quality ,fast action and service.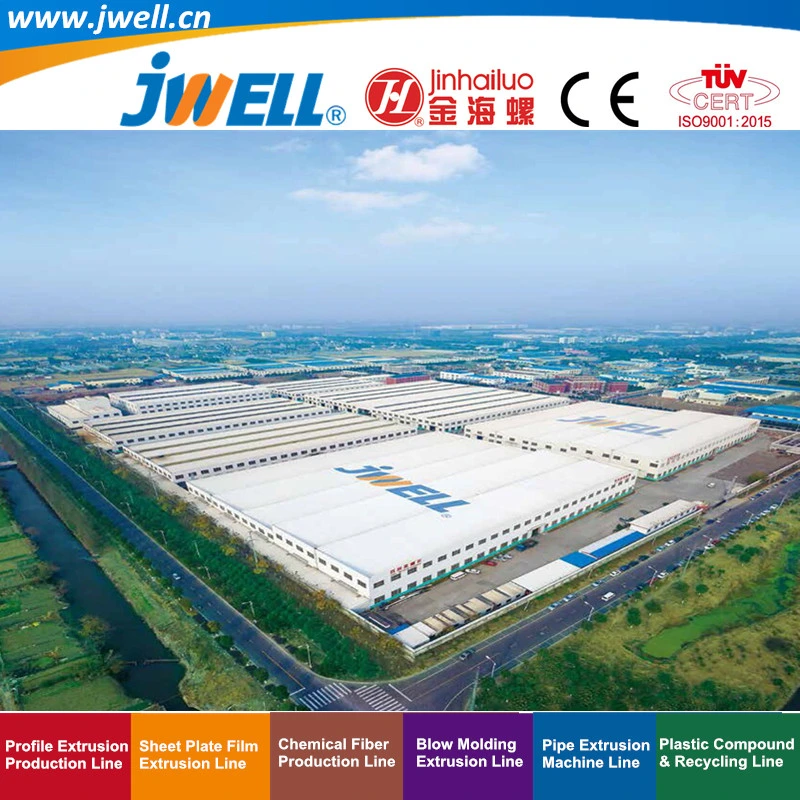 FAQ
Q1. Is Jwell Machinery Manufacturer?
A1: Jwell made the first Chinese screw and barrel in 1978 in brand name Jinhailuo
. After more than 40 years development, JWELL is one of the biggest extrusion machine supplier in China with 300 design&test engineer, 3000 employees. We own 5 manufacturing bases and sales center in Shanghai , Suzhou , Changzhou, Zhou Shan, Dongguan China. Jwell has become the premier supplier of extrusion lines and reliable business partners. Welcome to drop in us.
Q2: How many brands does Jwell Machinery own?
A2: Jwell Machinery owns more than 20 subsidiaries, China famous brand JINHAILUO, JWELL, BKWELL, DYUN are our Trade Marks.
Q3: If we don
'
t find what we need from your website , What should we do ? Do you make extrusion lines as per customers
'
specific requirement?
A3: Yes, we can provide bespoke service to customers with specific requirements. You can send the detailed requirements by email. We will check if we can develop them. We develop new machinery every month, and some of them may not yet be updated on our website.
Q4: How do you ensure your machinery and service quality?
A4: Our machines taking the European standards and follow the Germany type of business, we cooperation with International famous brands Siemens Schneider Flender Omron ABB WEG Falk Fuji etc. Our company continuously imports over 1000 international first-class high precision processing equipment such as multistage machining centers, NC lathes and CNC milling machines from Korea, Japan etc.
All our processes strictly adhere to CE certification, IS09001 and 2008 quality management system . And we have 12 months quality warranty time. We testing the machine performances before each delivery. Jwell service engineers will always be here for anything you needed.
Q5: How can I order and make payments?
A5: Once clear your requirements and determined extrusion line is ideal for you. We will send technical solutions and Proforma Invoice to you. You can pay via TT bank transfer, LC as you like.
Q6: If we find your bank account or email different as before, how should we respond?
A6: Please don
'
t send the payment and double check with us before arrange payment (Bank details will be listed in every piece of proforma invoice. )
"
"
.
Q7: How long is the delivery date?
A7: Usually it takes about 1 - 4 months depends on different machinery upon receipt of order advance payment.
Q8: What is your Minimum Order Quantity?
A8: One. We provide both customized extrusion lines and technical solutions. Welcome contact with us for technical innovation or improvements for your future purchasing plan.
Q9: What is your production capacity?
A9: We produce more than 2000 advanced extrusion lines every year world wide.
A10: What about shipping?
Q10: We can send the small spare parts by air express for urgent matter. And the complete production line by sea to save the cost. You can either use your own assigned shipping agent or our cooperative forwarder. The nearest port is China Shanghai, Ningbo port, which is convenient for maritime transportation.
Q11: Is there any pre-after sale service?
A11: Yes, we support our business partners by pre-after sale service. Jwell has more than 300 technical testing engineers traveling world wide. Any cases would be responded with prompt solutions. We provide training, testing, operation and maintenance service for a life time.
Q12:Are our business& money safe with Jwell Machinery ?
A12: Yes, your business is safe and your money is safe. If you check China company blacklist, you will see that it is not contain our name as we never crook our customer before. JWELL enjoys high reputation from the customers and our business and customers grows year by year.
Best regards!
Sincerely yours,
Jwell - Bimtallic Twin Screw and Barrel for Plastic recycling Making Extrusion mahchine