JWELL-ABS|PMMA Plastic sanitaryware plate recycling making Extrusion Machine
JWELL ABS PMMA plastic sanitaryware plate extrusion line :

APPLICATION


It is widely applied in the field of bath products ,such as the bathtub,the shower cabinet,the vapor room,washing bowl.etc



Machine technical parameter: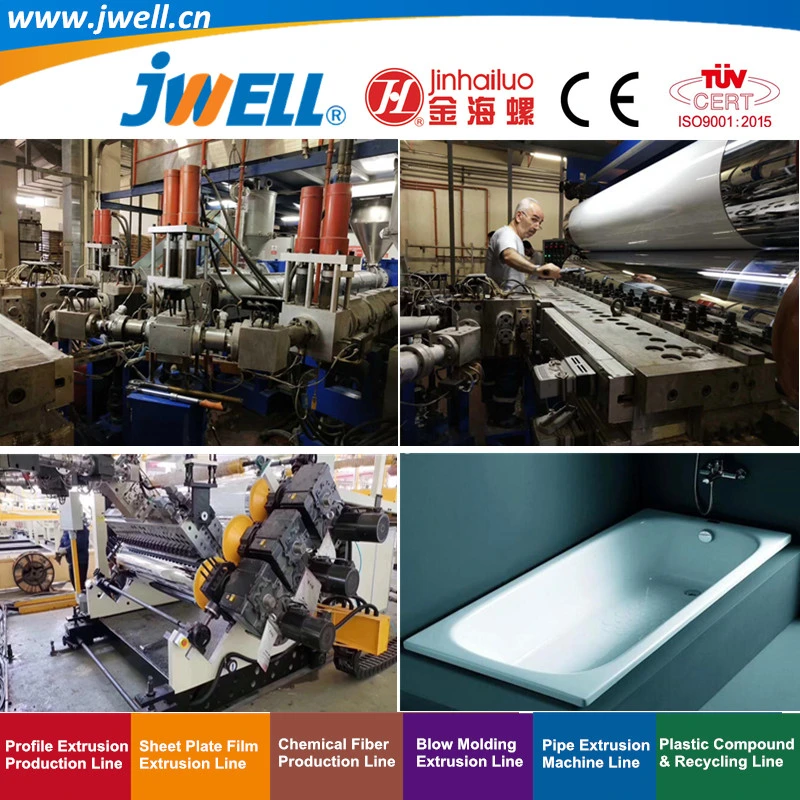 Model

JW-130/38-2200

JW120/38-1400

Material

PC,PMMA,GPPS

,ABS

PC,PMMA,GPPS

,ABS

Product width

2

2

00mm

1

4

00mm

Product thickness

1.5-10mm

1.5-10mm

Extruder specification

130/38,45/30

120/38

Max capacity

550kg/h

450kg/h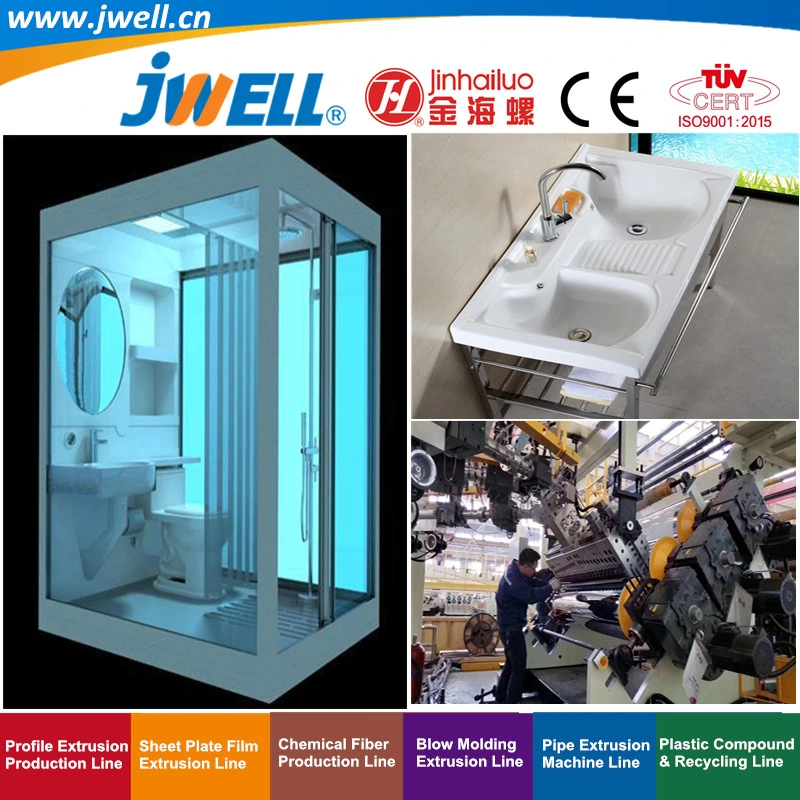 Most key parts of the line were produced by ourselves, as we have sub-branches being sepcializing in making screw & barrel,Tie, and mirror roller,so the quality of each component can be well controlled.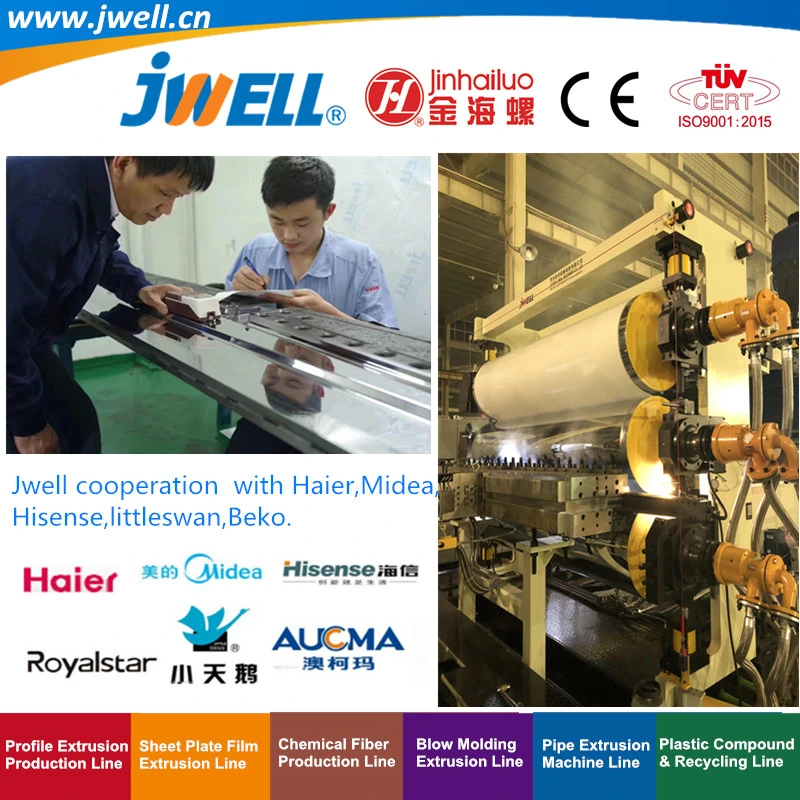 For some special requirements, we can use T-die or Melt pump from European or USA companies.
Our machine can produce sheet with width 1400-2200mm, output is 300-450kg/h, it can be custom-made.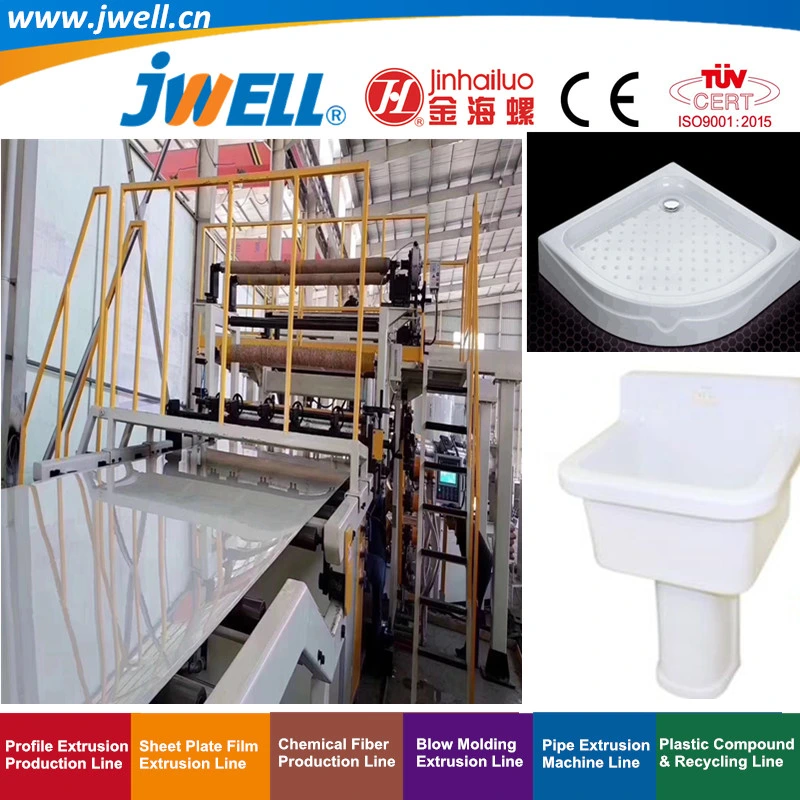 Five layers co-extrusion ABS/HIPS refrigerator sheet line successfully test for overseas customer
(
Cinco capas de coextrusión de la línea de hojas de refrigerador ABS / HIPS con éxito prueba para clientes en el extranjero
)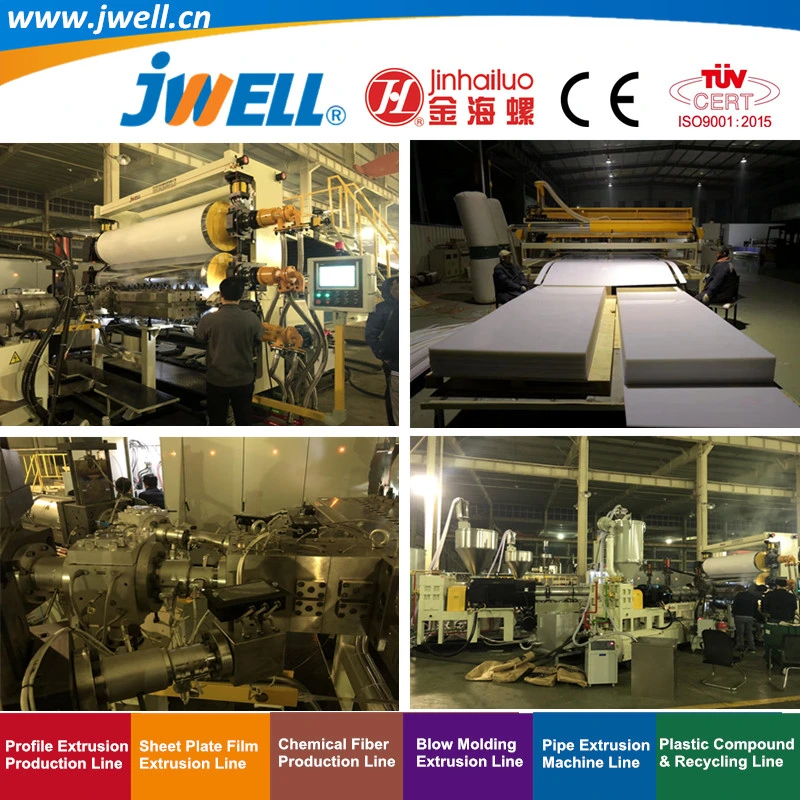 Jwell plastic sheet extr
usion line. For ABS HIPS PP HDPE GPPS PMMA PC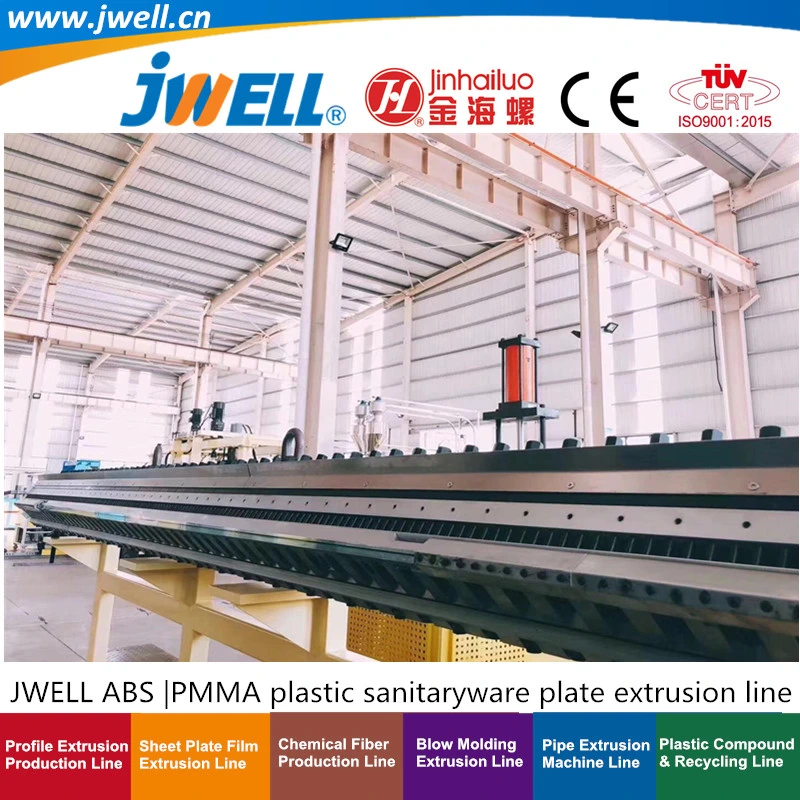 We only choose qualified supplier
--Jwell excellent partner
We work closely with world famous brand,your equipment can also be equipped with any compond brand as you wish.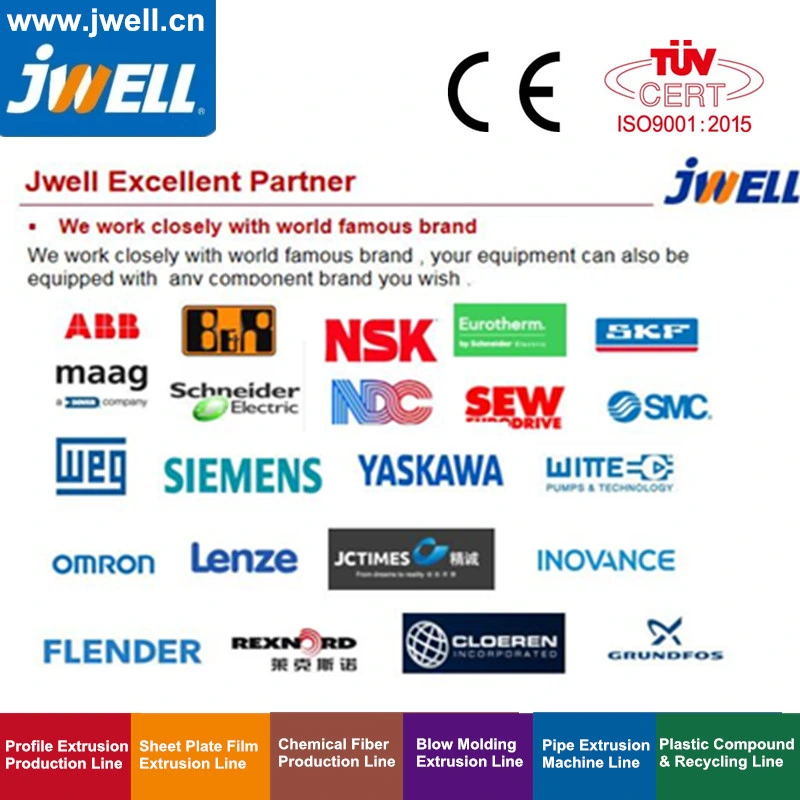 All Key parts: screw&barrel,
T-die, roller and downstream equipment are made by Jwell factory!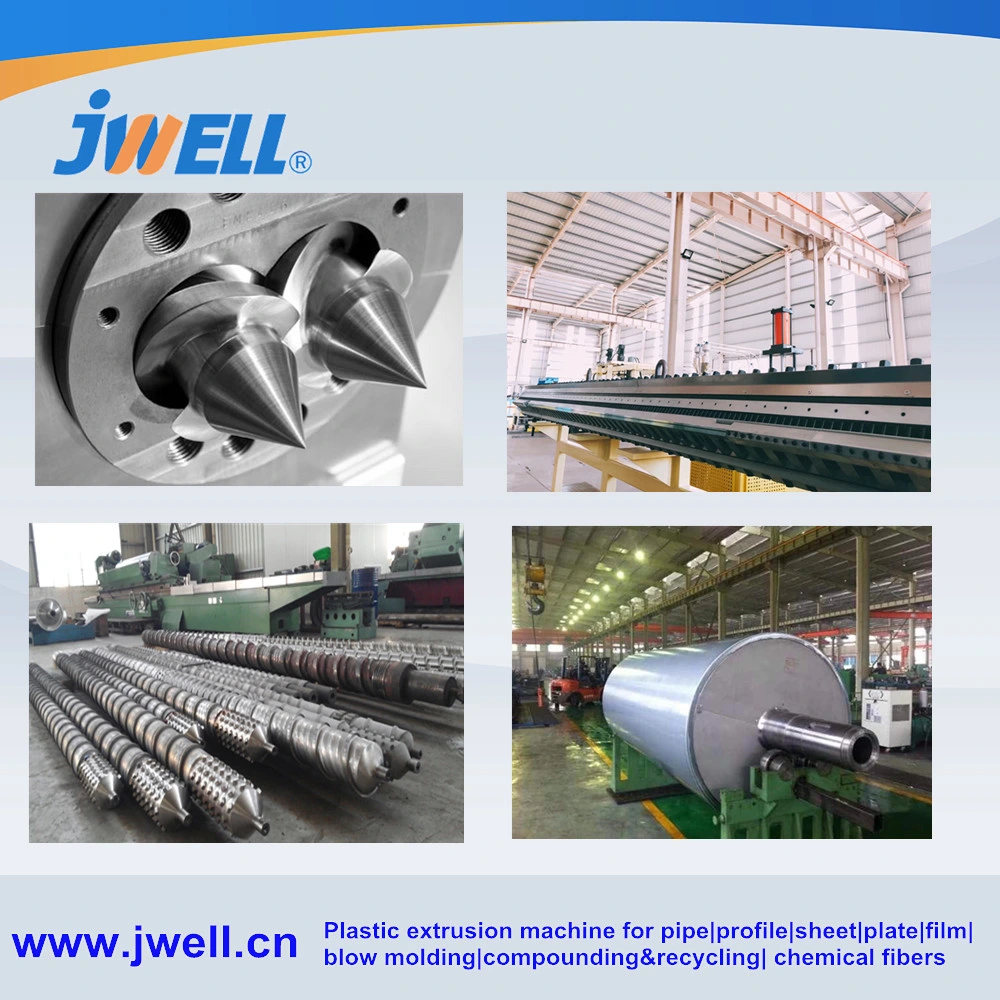 C
ompany Information
SUZHOU JWELL MACHINERY CO., LTD. is located in TaiCang city, Jiangsu province, abutting Jiading district, Shanghai City. It's high-tech manufacturer specializing in research & development and producing extrusion equipment. There are total over
1
000 employees, 280 are technical and management staffs. Company has good R & D employees and experienced mechanical , electrical commissioning engineers as well as advanced mechanical machining base and normative assembly workshop.
Main products: various plastic pipes extrusion lines; various plastic profile extrusion lines; various plastic plate & sheet extrusion lines including Jwell
PVC SPC Calcium-plastic Environmental Floor Extrusion
lines and
PC PP PE plastic hollow cross section plate extrusion line
; chemical fiber spinning; microcomputer controlled automatic blow molding machines; plastic auxiliary recycling lines; various single & twin screw and barrel extruders; T die; screen exchangers; Rollers and Robots.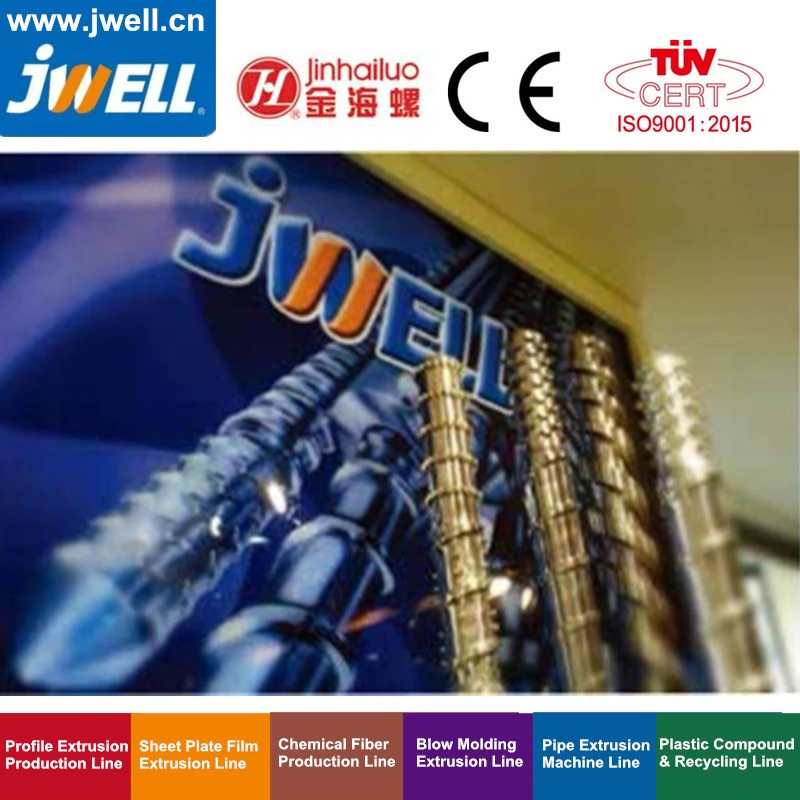 FAQ
Q1. Is Jwell Machinery Manufacturer?
A1: Jwell made the first Chinese screw and barrel in 1978 in brand name Jinhailuo
. After more than
40
years development, JWELL is
one of the biggest
extrusion machine supplier in China with 300 design&test engineer, 3000 employee
s
. We own
5 manufacturing bases and sales center in Shanghai , Suzhou , Changzhou, Zhou Shan, Dongguan
China.
Jwell has become the premier supplier of extrusion lines and reliable business partners.
Welcome to drop in us.
Q2:
How many brands does Jwell Machinery own
?
A2:
Jwell Machinery owns more than 20 subsidiaries, China famous brand JINHAILUO, JWELL, BKWELL, DYUN are our Trade Marks.
Q3:
If we don't find what we need from your website , What should we do ? Do you make extrusion lines as per customers' specific requirement?
A3: Yes,
we can provide bespoke service to customers with specific requirements. You can send the detailed requirements by email. We will check if we can develop them. We develop new machinery every month, and some of them may not yet be updated on our website.
Q4:
How do you ensure your machinery and service quality?
A4:
Our machines taking the European standards and follow the Germany type of business, we cooperation with International famous brands Siemens Schneider Flender Omron ABB WEG Falk Fuji etc.
Our company continuously imports over 1000 international first-class high precision processing equipment such as multistage machining centers, NC lathes and CNC milling machines from Korea, Japan etc
.
All our processes strictly adhere to CE certification, IS09001 and 2008 quality management system . And we have 12 months quality warranty time. We testing the machine performances before each delivery. Jwell service engineers will always be here for anything you needed.
Q5: How
can I order and make payments?
A5:
Once clear your requirements and determined extrusion line is ideal for you. We will send technical solutions and Proforma Invoice to you. You can pay via TT bank transfer, LC as you like.
Q6:
If we find your bank account or email different as before, how should we respond?
A6:
Please don't send the payment and double check with us before arrange payment (Bank details will be listed in every piece of proforma invoice. )
Q7: How long is the
delivery date
?
A7: Usually it takes about
1
-
4 months depends on different machinery
upon receipt of order advance payment.
Q8:
What is your Minimum Order Quantity
?
A8:
One. We provide both customized extrusion lines and technical solutions. Welcome contact with us for technical innovation or improvements for your future purchasing plan.
Q9: What is your production capacity?
A9: We produce more than 2000 advanced extrusion lines every year world wide.
A10: What about shipping?
Q10: We can send the small spare parts by air express for urgent matter. And the complete production line by sea to save the cost. You can either use your own assigned shipping agent or our cooperative forwarder. The nearest port is China Shanghai, Ningbo port, which is convenient for maritime transportation.
Q
11
: Is there any pre-after sale service?
A
11
: Yes, we support our
business
partner
s
by pre-after sale service.
Jwell has more than 300 technical testing engineers traveling world wide.
Any case
s
would be re
sponded with
prompt solutions.
We provide training, testing, operation and maintenance service for a life time.
Q1
2
:Are our business& money safe with
Jwell Machinery
?
A1
2
: Yes, your business is safe and your money is safe. If you check China company blacklist, you will see that it is not contain our name as we never crook our customer before.
JWELL enjoys high reputation from the customers and our business and customers grows year by year.
Best regards!
Sincerely yours,
Sales Manager:Stella Xu


JWELL
-ABS|PMMA Plastic sanitaryware plate recycling making Extrusion Machine