1250 1000 800 PVC PP PE WPC Door Panel Plastic Board Plate Extrusion Machine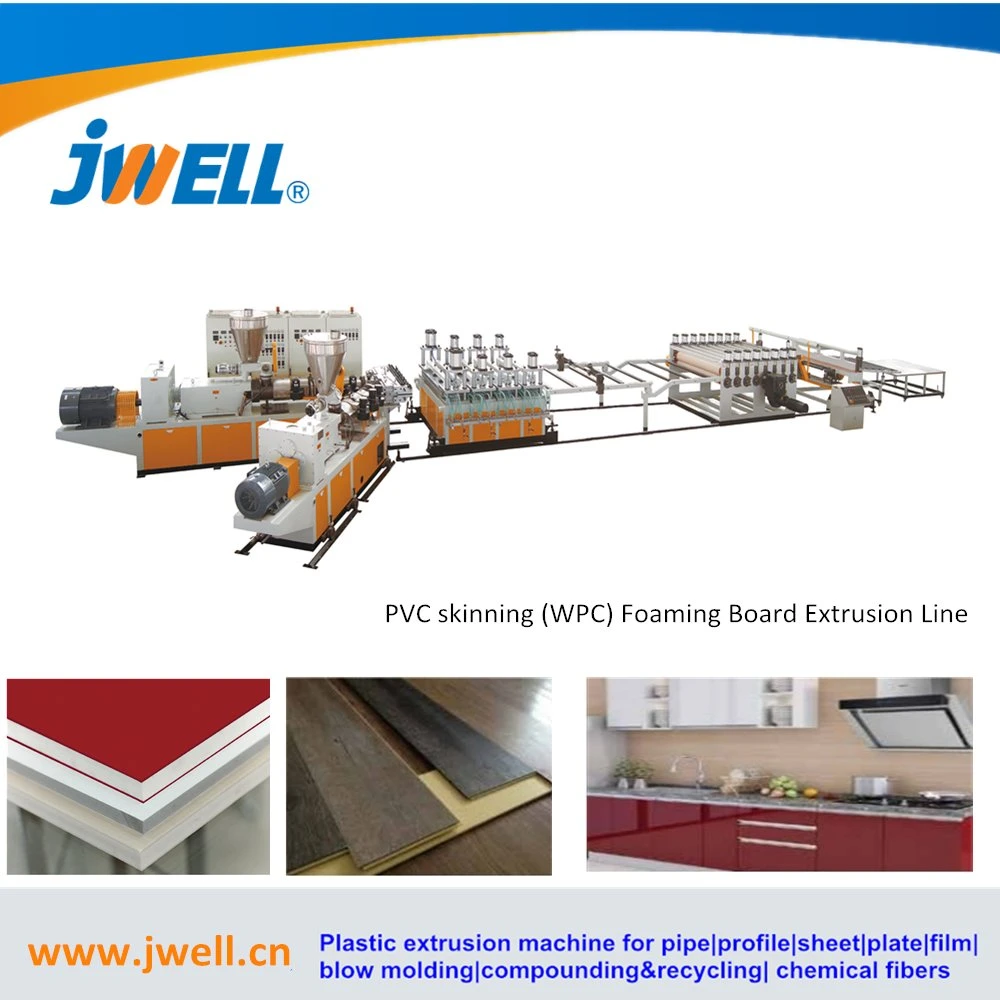 PVC foaming floor extrusion line is a new type of environmentally friendly wood plastic composite products, in production, high density fiber board produced in the process of wood to phenol, join the recycled plastics granulation equipment made wood plastic composite materials, and then to extrusion production team to make wood plastic floor, wood plastic floor with 100% renewable and recyclable use, its production technology is also considered a life force for the innovation of technology, has a broad market prospect and good economic benefit and social benefit.
| | | | | |
| --- | --- | --- | --- | --- |
| Model | Semi-skinning foaming board extrusion line | Semi-skinning foaming board extrusion line | Semi-skinning foaming board extrusion line | Co-extrusion line |
| Product width | 1220mm | 1560mm | 2050mm | 1220mm |
| Product thickness | 5-20mm | 1-18mm | 1-15mm | 5-20mm |
| Extruder | SJZ80/156 | SJZ92/188 | SJZ92/188 | SJZ80/156+SJZ65/132 |
| Max capacity | 400kg/h | 550kg/h | 550kg/h | 500kg/h |
| Main motor power | 75kw | 132kw | 132kw | 75kw+37kw |
PVC corrugated board and Step-Roofing feature and application:
1)The fire protection performance is remarkable, difficult to burn. Anti-corossion, Acidproof, alkali, radiates quickly, high
lighting, logn life-span.
2)Adopt special technology, Bears the outdoor atmospheric insolation,
the heat insulation performance is good, in the hot summer can provide compares the metal to use a tile more comfortable
environment.
3)The applicable scope is broad, the workshop, the warehouse, the vehicle shed, the agricultural market fair, the brattice, the
wall body, the temporary store, the heat insulation awning and so on are suitable.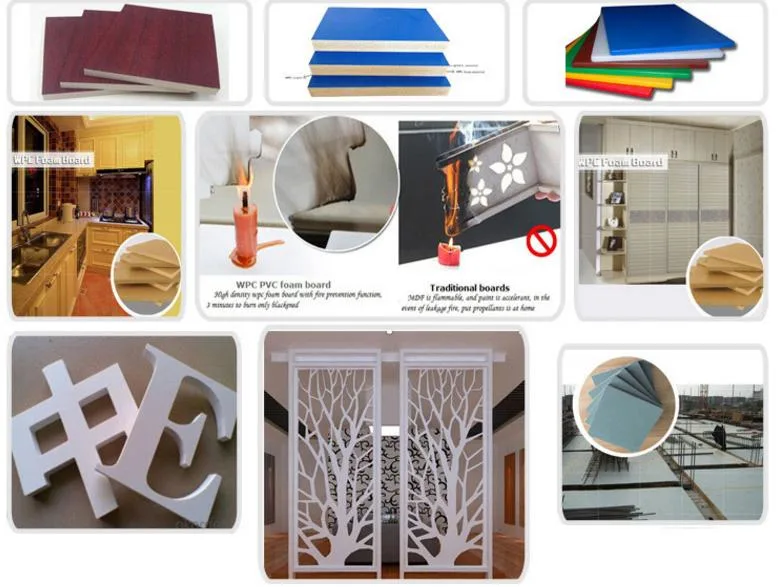 Applications
Transport industry:
ship, plane, bus, train, floor covering, core layer, indoors decoration plate.
Architecture decoration industry:
outdoors plate, indoors decoration plate, residential house, office, separation of public building, commercial decoration frame, plate used in dust-free room, ceiling plate.
Advertisement industry:
screen printing, computer engraving, ad. board, exhibition plate, logo plate.
Industrial application:
rot proof project in chemical industry, thermal shaped part, plate for refrigeration warehouse, special cool-keeping project, environmental protection plate.
Other applications:
construcion mold plate, sports apparatus, aquaculture material, seashore wet-proof facility, water-resistant material, arts material and all sorts of light separation plate.




Jwell Plastic Multi-Layer Stone Composite (SPC) PVC floor production line (1050 1220 mm)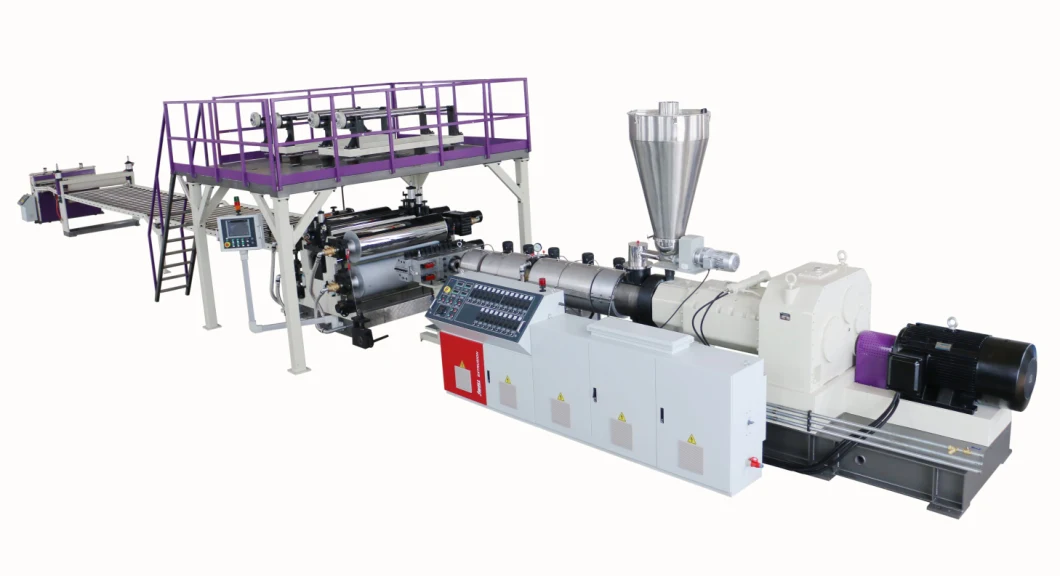 SPC(stone plastic composite) Flooring also called Rigid Vinyl Plank(RVP) is an upgrade of LVT(Luxury Vinyl Tiles) and it is representative of 21st century new high-tech ground materials because of the excellent stability and durability
Jwell Machinery is the seasoned professional manufacturer of Waterproof Click System WPC SPC Flooring Vinyl Plank Flooring Making Machine and we always keeping innovation;
Jwell will assist you to produce the Top Quality SPC flooring with our technology support,market analysis,project analysis,cost analysis,seamless purchasing;
Do you have the plan to produce the SPC flooring according to your customer request by yourself(DIY)?
Product Description
SPC PVC WPC Plastic LVT Vinyl Flooring Tile Sheet Planks Board Production Extrusion Line Making Machine
One step extrusion with online decoration film lamination,wear-resisting layer at top and bottom with sound insulation cushion layer
1)Surface can be laminated with different design decoration film
2)Laminate wear-resisting layer at top surface
3)Emboss with different design
4)Sound insulation cushion layer can be laminaed at bottom side
Finished Product Size
(970mm)1220mm or customized with thickness:2mm-8mm
Main Material
PVC/CaCO3/Processing Additives
Crusher
customized
Grinder
customized
Heating/Cooling Mixing Machine
800/2500L
Extruder
80/156 92/188 110/220 Conical Twin-Screw
Production Capacity
500kg/h 1000kg/h 1400kg/h(max)
Inverter
SIEMENS
Main motor/AC Contactor/Thermal Overload Relay/Breaker etc
SIEMENS
PLC &HMI
SIEMENS(Top Series)
Temperture Controller
Japan OMRON
T-Die
Specially design for SPC Flooring
Calendering System
Multi-Roller Calendering System
Cooling Bracket+Side Trimming
12000mm
Haul Off
SIEMENS Electrics can match the production speed perfectly
Shearing System
Precision Shearing Machine
Automatic Plate-Lifting Machine
Plastic PVC WPC Vinyl Panel/Plank/Board/Sheet/Tile Flooring Production Machinery SPC Flooring Extruding/Extrusion/Extruder Making Machine
Counter Conical Twin-Screw Extruder specification
| | | | |
| --- | --- | --- | --- |
| model | 80/156 | 92/188 | 112/220 |
| width mm | 1050 | 1220 | 1220 |
| thickness mm | 3-8 | 3-8 | 3-8 |
| capacity KG/H | 400-500 | 800-1000 | 1200-1400 |
| main motor power kw | 75 | 110 | 160 |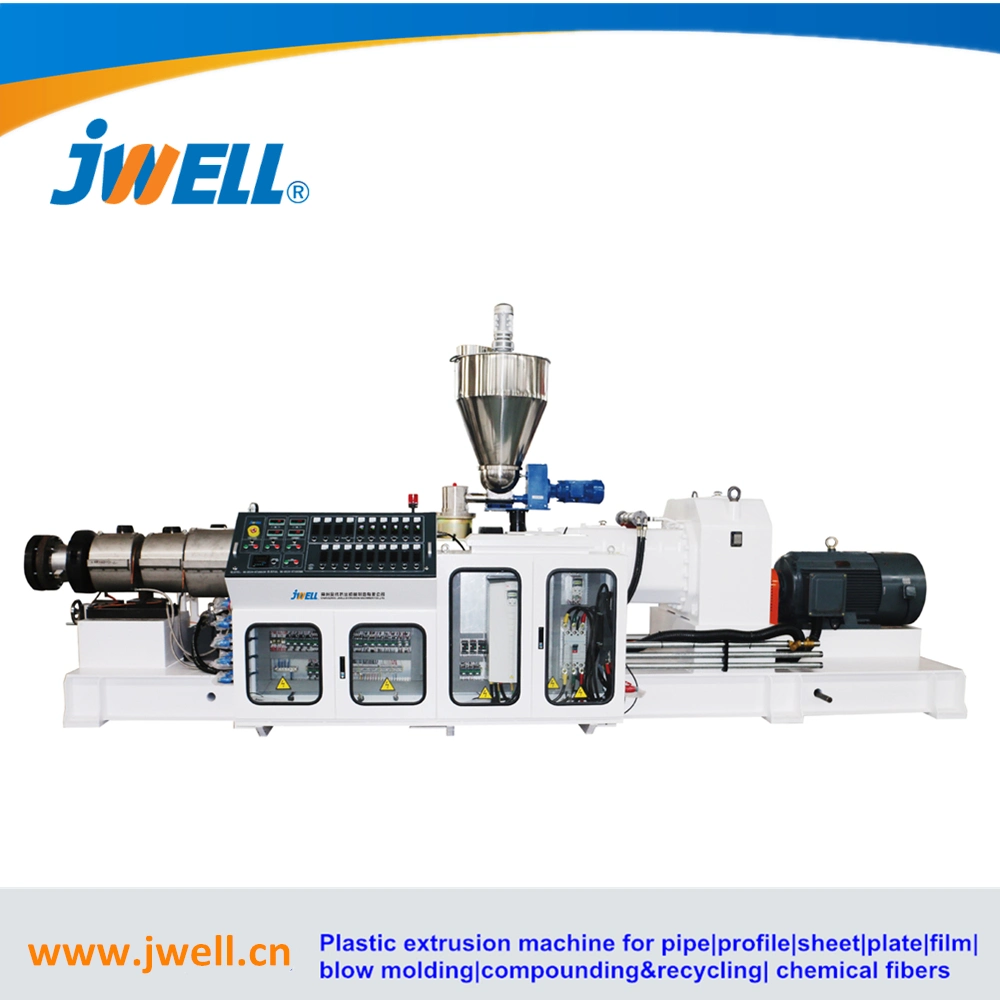 Process 1:mixed material
According to the ratio of raw material, pour into the high speed mixer→heating mix(temperature:125ºC, mix evenly a variety of materials, eliminate the moisture of the material)→into the cooling mix(cooling the material to prevent agglomeration and discoloration, temperature:55ºC.)→material mix evenly by cooling.
Process 2:extruder
Twin screw extruder used to heat and extruder→enter the die head which is chosen by customer to extrusion molding, forming sheet through 4-roll calender, base materials thicknessing→stick color film→stick wear resistant layer→cooling→cutting
Process 3: UV temper
Surface UV→temper(Hot water temperature:80~120ºC; Cool water temperature:10ºC)
Process 4:Slotting separately+Packaging
Cutting→slotting→test→packaging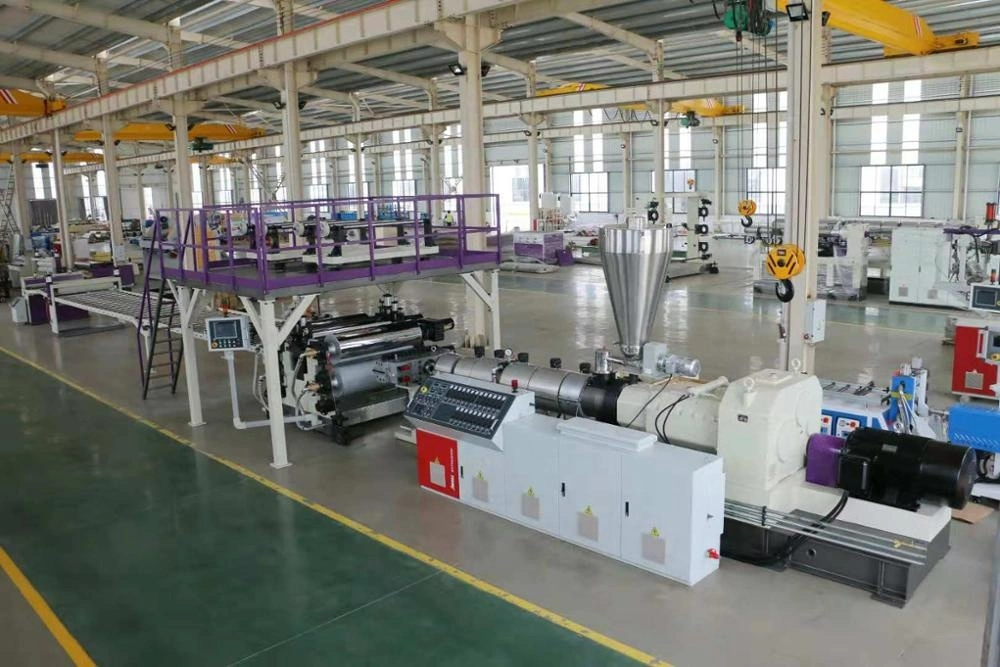 III.Production equipment(Planning capacity:200 tank/month)
Analyze :
1>SJZ92/188 Concial twin screw extruder output:10t×80%=16t/24h
Note:(4mm thickness floor, actual daily output:18t/24h)
2>The weight of 4mm thickness floor:8kg/(density:2.0)
3>16000KG÷8kg=2000 square meter
4>10 pcs production line×16t=160t/day×30days=4800t÷18t=266pcs×80%=213tank/month
(18ton is the weight of 1 container)
Main Features
Advantages of SPC Composite Flooring Production Line
1. Waterproof and moisture-proof. The problem that wooden products are easy to rot, expand and deform after absorbing water in wet and multi-water environment has been solved fundamentally. It can be used in environments where traditional wooden products can not be applied.
2. Colorful, with many colors to choose from. It not only has natural wood texture and wood texture, but also can customize the color according to its own personality.
3 High environmental protection, pollution-free, recyclable. The product does not contain benzol and formaldehyde. It is an environmental protection product. It can be recycled, which greatly saves the use of wood, suits the national policy of sustainable development and benefits the society.
4. High fire resistance. Effective flame retardant, fire protection level up to B1, self-extinguishing in case of fire, no toxic gas produced
5. Simple installation, convenient construction, no need of complicated construction technology, saving installation time and cost
6. No cracking, no expansion, no deformation, no need of maintenance , easy to clean, save the cost of later conservation.
All Key parts: screw&barrel,melt pump, screen changer, T-die, roller and downstream equipment are made by Jwell factory!

Customized Solutions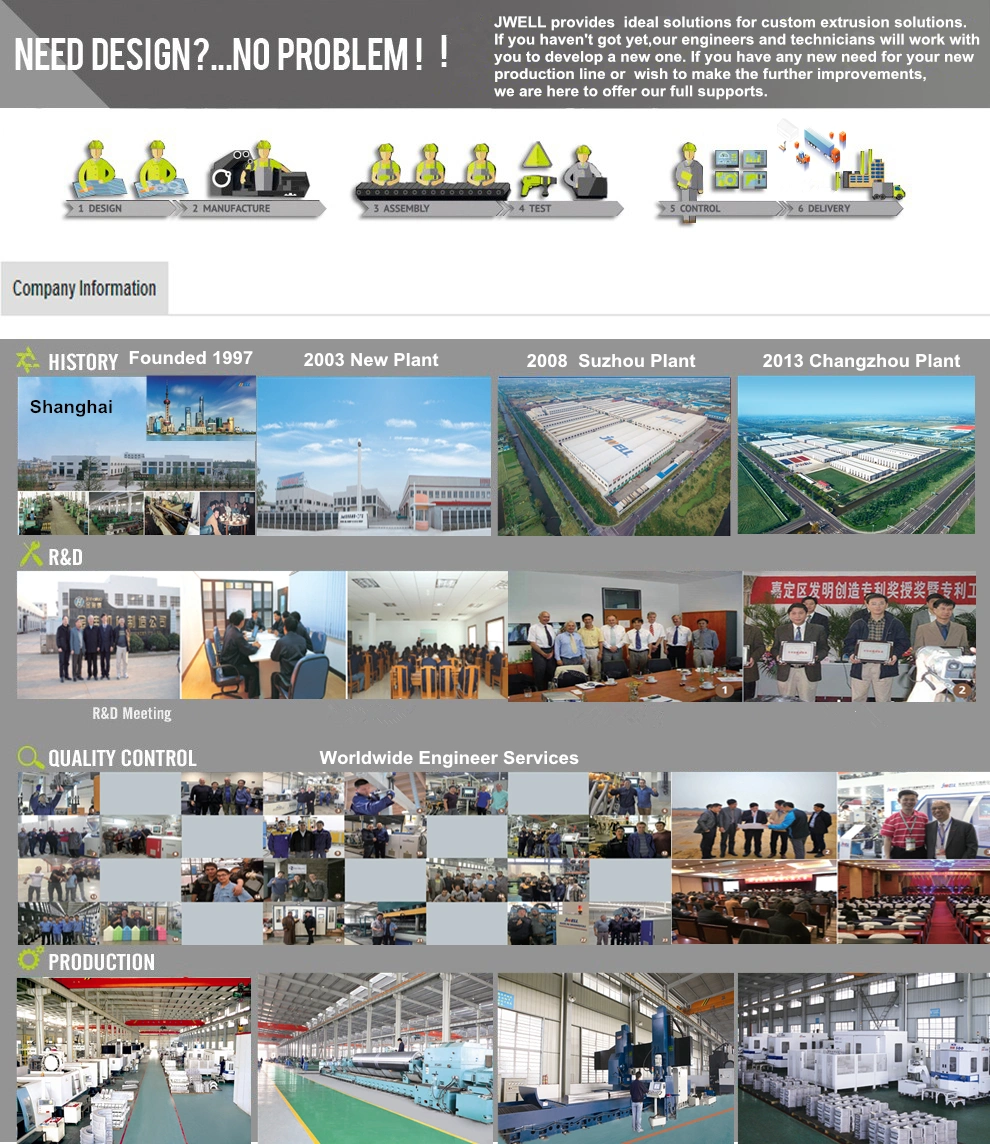 Company Information
As the vice unit of CPMIA,
Shanghai Jwell Machinery Co., Ltd
is the biggest manufacturer of plastic extrusion
machinery and chemical fiber spinning equipment in China, its head office is located in thewestern district of
Shanghai. There are 5 production bases, which were located in the western districtof Shanghai, Zhoushan of
Zhejiang Province, Suzhou of Jiangsu and Changzhou of Jiangsu , Dongguan of Guangdong , totally covering
700,000 square meters. It has more than 2600 staffs, about 400 technicians and managing staffs.
Main products: various plastic pipes extrusion lines including large diameter PE/PVC double wall corrugated
pipe extrusion line, large diameter PE/PVC solid wall pipe extrusion line, PP-R/PEX/PE-RT cool/hot water pipe
extrusion line, PA/PE/PVC single wall corrugated pipe extrusion line; various plastic profile extrusion lines;
various plastic plate & sheet extrusion lines; chemical fiber spinning; microcomputer controlled automatic blow
molding machines; plastic auxiliary recycling lines; various single & twin screw and barrel extruders;
T die; screen exchangers; Rollers and Robots.
Why usPioneering Efforts, Unity and Struggle
Seeking for innovative and practical technology, We grow rapidly with the market trend. Every person is a product
person in creating better customer experience. Trust is the corner stone of our corporate. As we truly believe the
staffs are the most precious wealth, if we take care of our employees, so as each person would take care of the
customers. "Be Honest" is the core idea for us to build an everlasting enterprise.
Consistent quality, Brands Building.
We have kept an eye on the quality during all procedures since the birth or our enterprise. Consistent quality would
be the only virtue which we highly uphold. Every product marking JWELL represents safety, stability, reliability.
Cutting edge technology, Added value products
We have professional designing engineer who recognize the market need well. We add value to customers' business
by innovative designs and products that will provide competitive advantage over your rivals.
Capable of ultimate one stop solution
There are various of products ranges, flexible order quantity, customized designs. Our products are capable of ultimate
one stop solution for different sizes of projects and business. With pre-sale and after-sale assistance, prompt delivery,
we care the customers' satisfaction and benefits.
Sales Service Networks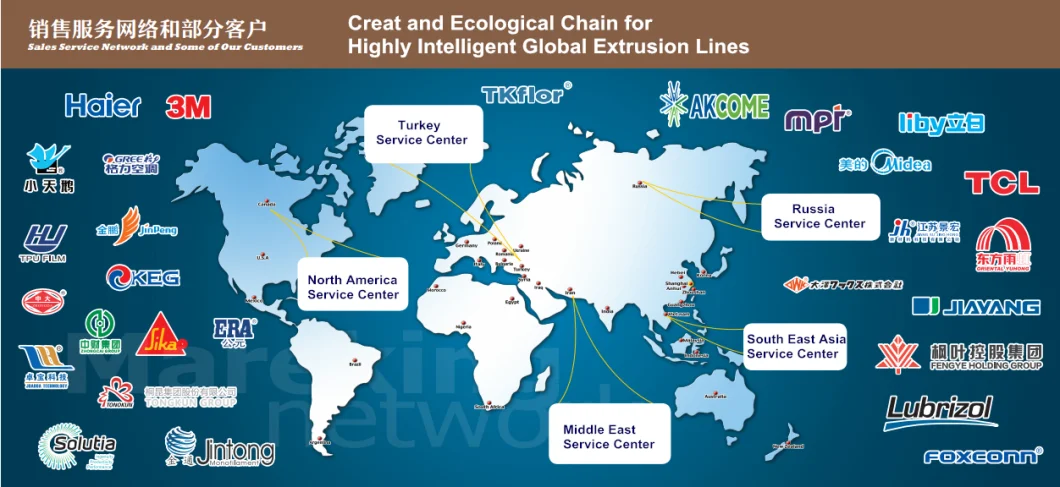 FAQ
Q1. Is Jwell Machinery a Manufacturer?
A1: Yes, We own 5 manufacturing bases and sales center in Shanghai , Suzhou ,Changzhou, Zhou Shan, Dongguan China.
Jwell made the first Chinese screw and barrel in 1978 in brand name Jinhailuo.After more than 40 years development,
JWELL is one of the biggest extrusion machine supplier in China with 300design&test engineer, 3000 employees.
Jwell has become the premier supplier of extrusion lines and reliable business partners. Welcome to drop in us.
Q2: How many brands does Jwell Machinery own?
A2: Jwell Machinery owns more than 20 subsidiaries, China famous brand JINHAILUO, JWELL, BKWELL, DYUN
are our Trade Marks.
Q3:
If we don't find what we need from your website , What should we do ? Do you make extrusion lines as per customers' specific requirement?
A3: Yes, we can provide bespoke service to customers with specific requirements. You can send the detailed
requirements by email. We will check if we can develop them. We develop new machinery every month, and
some of them may not yet be updated on our website.
Q4:
How do you ensure your machinery and service quality?
A4: Our machines taking the European standards and follow the Germany type of business, we cooperation with
International famous brands Siemens Schneider Flender Omron ABB WEG Falk Fuji etc. Our company continuously
imports over 1000 international first-class high precision processing equipment such as multistage machining centers, CNC lathes and CNC milling machines from Korea, Japan etc. All our processes strictly adhere to CE certification,
IS09001 and 2008 quality management system . And we have 12 months quality warranty time. We testing the
machine performances before each delivery. Jwell service engineers will always be here for anything you needed.
Q5: How can I order and make payments?
A5: Once clear your requirements and determined extrusion line is ideal for you. We will send technical solutions and
Proforma Invoice to you. You can pay via TT bank transfer, LC as you like.
Q6:
If we find your bank account or email different as before, how should we respond?
A6: Please don't send the payment and double check with us before arrange payment (Bank details will be listed in
every piece of proforma invoice. ) We are only responsible for email " " .
Q7: How long is the
delivery date?
A7: Usually it takes about 1 - 4 months depends on different machinery upon receipt of order advance payment.
Q8:
What is your Minimum Order Quantity?
A8: One. We provide both customized extrusion lines and technical solutions. Welcome contact with us for technical
innovation or improvements for your future purchasing plan.
Q9: What is your production capacity?
A9: We produce more than 2000 advanced extrusion lines every year world wide.
A10: What about shipping?
Q10: We can send the small spare parts by air express for urgent matter. And the complete production line by sea
to save the cost. You can either use your own assigned shipping agent or our cooperative forwarder. The nearest
port is China Shanghai, Ningbo port, which is convenient for maritime transportation..
Q11: Is there any pre-after sale service?
A11: Yes, we support our business partners by pre-after sale service. Jwell has more than 300 technical testing
engineers traveling world wide. Any cases would be responded with prompt solutions. We provide training, testing,
operation and maintenance service for a life time.
Q12:Are our business& money safe with Jwell Machinery ?
A12: Yes, your business is safe and your money is safe. If you check China company blacklist, you will see that it is
not contain our name as we never crook our customer before.
Please click "send" and Contact us !!
Shanghai Jwell Machinery Co., Ltd.
Add: Changzhou, Suzhou, Dongguan, Zhoushan, Shanghai of China.
Contact: Ms. Megan Jwell
Mob:+86 13818591226
Web:
jwellmachinery.en.made-in-china.com
1250 1000 800 PVC PP PE WPC Door Panel Plastic Board Plate Extrusion Machine