Wood Plastic WPC decking Extrusion Machine
1.1 WPC extrusion machine for making wall panel, decking, post, fence...
| | |
| --- | --- |
| Material | Percentage |
| Recycled PP/PE plastic material | 25-30% |
| Wood powder made from wood/rice husk/rice straw/wheat straw/wheat husk | 65-70% |
| Chemicals: PE wax, stearic acid, CaCo3, pigments, coupling agent | 5% |
The wood-plastic is a new kind of synthetic material which uses PVC,PP,PE resin or recycled plastic and plant fibre ( wood powder,chaff,straw etc.) as raw material and through the process of mixing,granulation,exrusion,calibrating,drawing off and cutting. This kind of wood-plastic materials are not only very similar with natural wood in appearance and feel,but also with the same characteristics as wood of excisable, planeable,sawable, unmatched grip,low bibulous rate, good moisture resistance, mothproof,mildew resistance,good resistance to acid and alkali,anti-corrosion, and it has the feature of fire resistance.The products are non-toxic,non-polluting,environment-friendly and save-energied, without formaldehyde, benzene and ammonia and other harmful substances.The wood-plastic products are widely used in outdoor floor,hydrophilic construction,balcony,landscape architecture,chairs and benches, fences, indoor doors and windows, furnitures, etc.




1.2 Production flow
Complete process for making WPC products from raw material to final products
1, plastic recycling: washing, crushing ,drying the PP/PE plastic wastage into flakes, the flakes shall be used for WPC production directly.
2, wheat straw powder making: crushing, milling and drying the wheat straw into 80-100 mesh powder
3, material mixing: weighting and mixing all material together according to our formula by hot mixing machine
4, WPC granulating: extrusion by parallel double screw extruder and do hot-pelletizing into WPC granules.
5, WPC extrusion: extrusion by conical double screw extruder and molding in required size and shape with water cooling calibrating, online fixed length cutting.
6, WPC surface design: embossing, brushing, or sanding on the surface to make different wooden grain feeling.



1.3 Equipment List for WPC production
we are professional for the turnkey production line as below, we have all these machines in factory stock
Item
Machine
Capacity
1
Wood chipping machine:
it is used for making big wood into chipped wood
3 tons/hour
2
Wood crushing and milling machine:
it is used for making wood powder from rice husk/straw/wood sawdust
300kgs/h
3
Wood drying machine:
it is used for reducing the moisture in wood powder
300kgs/h
4
WPC Mixing machine:
it is used for mixing all material together according to the formula
500kgs/h
5
SHMS75 WPC granulator machine:
it is used for making WPC granules, with venting system, to ensure the wood and plastic composition to be strong to increase the final product quality
400kgs/h
6
SJMS65 WPC profile extrusion line:
The mold shall be installed on this line to make the final product size and shape.
150kgs/h
WPC profile molds:
you can change different molds for making different size and shape
Co-extrusion system:
you can make WPC products with good surface for anti-weather, beautiful color, anti-sunshine, long using life, no color fadding
Online embossing machine:
you can do embossing online to make beautiful wooden design
7
Off line sanding machine
8
Off line brushing machine
9
Off line double face embossing machine
10
crusher
1.4 WPC application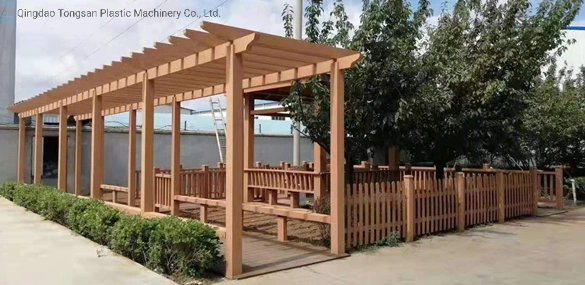 Advantage and application for WPC products
The wood plastic composite material(WPC) is a new kind of environment-friendly and 100%recycable material,

which uses straws in agricultural production (such as wheat-straw, cotton stalk, rice chaff, wood sawdust) and

recycled plastic( such as plastic film bags, plastic bottles) as main raw material. The WPC profiles and plates

can be used as package material, industrial pallets, guardrail, pavilion, and decking in city construction, national

defense building material, car and ships indoor decorative material, window and doors, ceiling, wall cladding,

indoor floor, furniture and cupboard etc.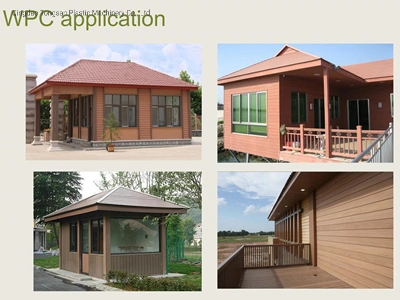 The WPC products can be used instead of the wood products and plastic products. As it's physical and

mechanical properties are as good as wood, and it has many other performance than the wood products

and plastic products, such as environment-friendly, moisture proof, antiseptic and anti-crush. It is not only

environment-friendly and comprehensive utilization, but also in high technology, good quality and widely

application. It is more and more popular in the international market.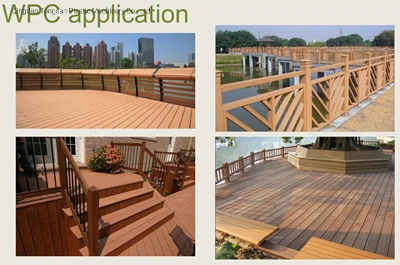 1.5 Detailed Images
Wood powder making machine: chipping, crushing and milling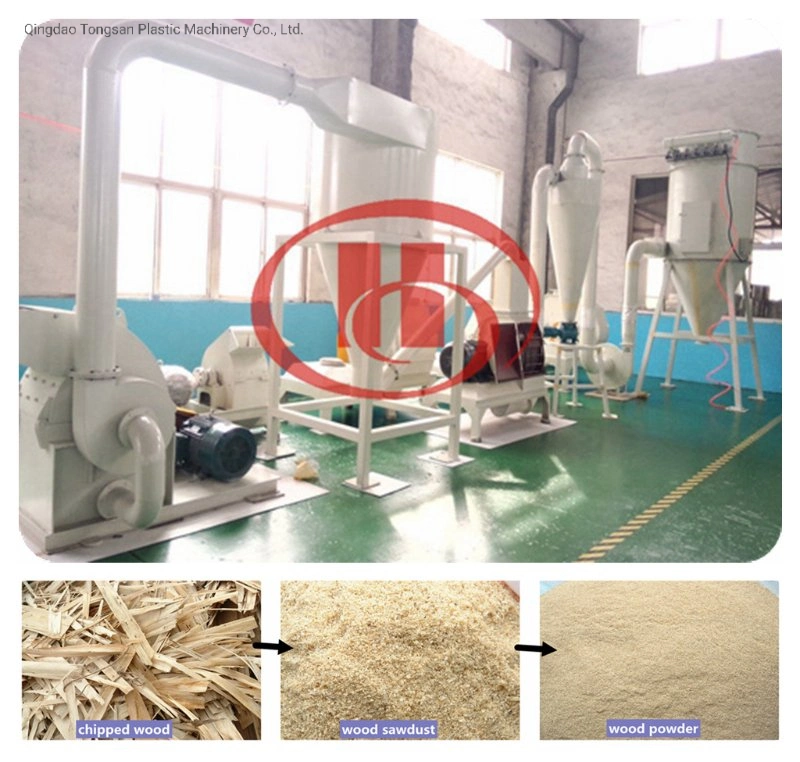 Wood powder drying machine, drying by heating barrel, moving by screw rotating.
High capacity, low cost, stably production, safe operation
WPC granulation machine: parallel double screw extruder
high capacity, good plastization,specially designed for wood and plastic composition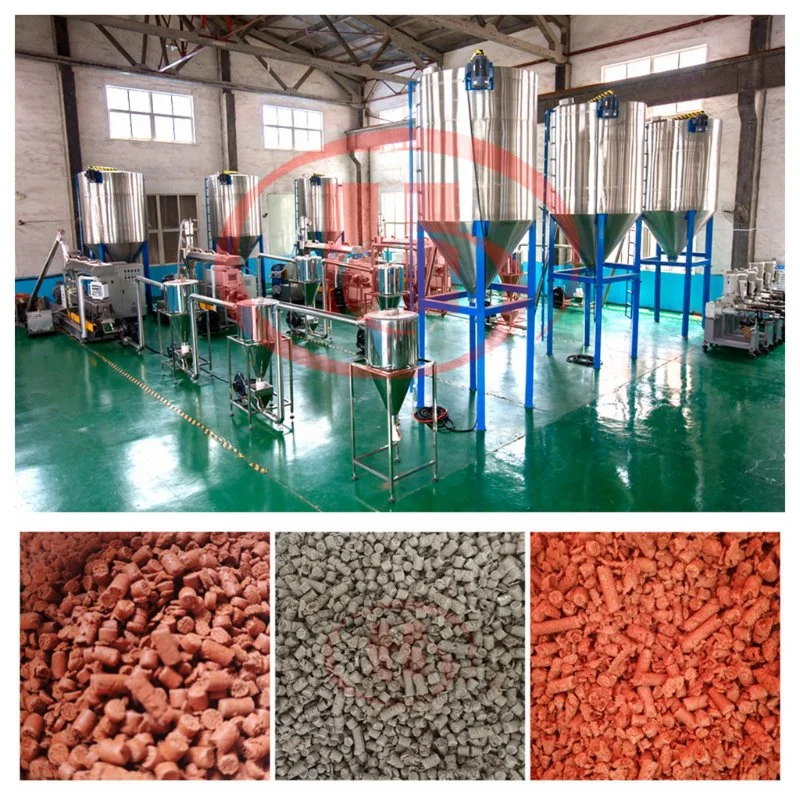 WPC profile extrusion line: excellent quality, professional design
high output, long using life, power saving, professional design for WPC profiles making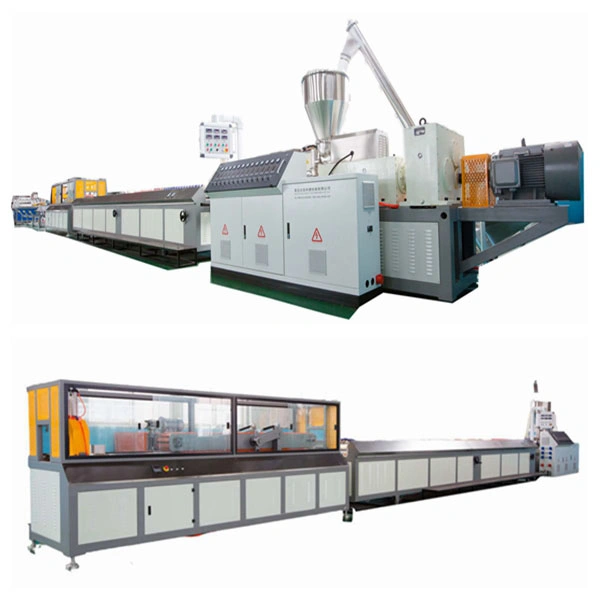 Online embossing machine: 3D embossing is avaliable
beautiful design, easy operation,saving manpower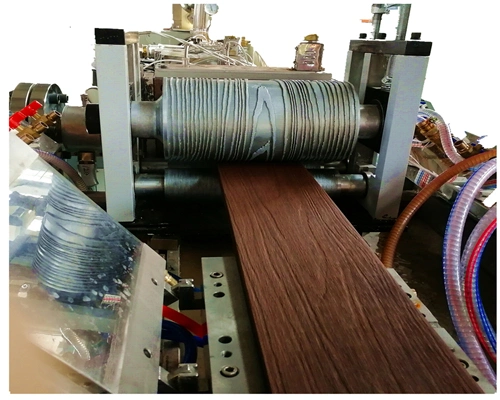 Sanding and brushing machine: various sizes
easy operation, long using life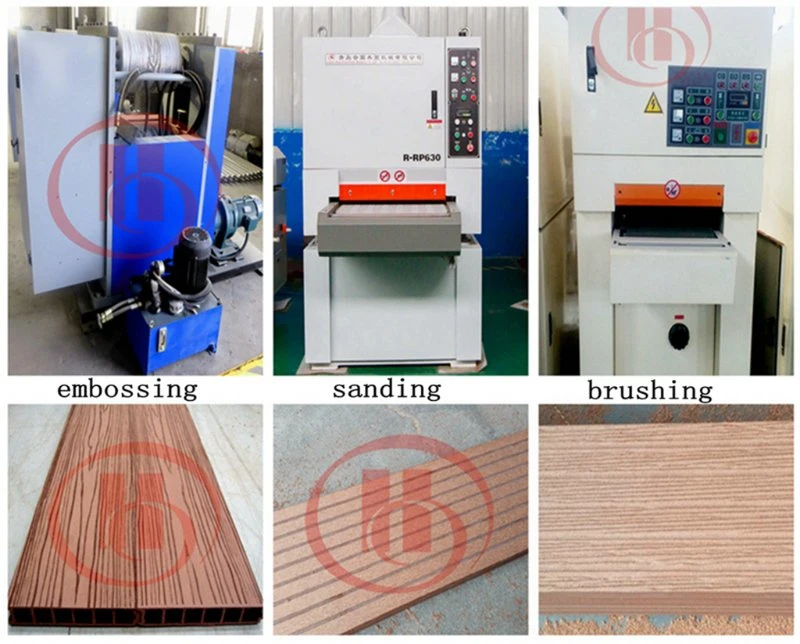 FAQ
1, DO YOU PROVIDE OEM SERVICE?
we accept OEM order to design the machine according to customer's special requirements.

2, HOW CAN I GET THE TECHNICAL PARAMETERS?
Please contact us for sending you detailed quotation with technical parameters

3, WHAT IS THE WARRANTY TERMS?
3.1 WARRANTY PERIOD: 12 MONTHS, STARTING FROM THE FIRST DAY OF RUNNING MACHINES IN CUSTOMER'S WAREHOUSE
3.2 SELLER SHALL GRANT: SERVICES AND SPARE PARTS, FREE-OF-CHARGE SERVICE THROUGHOUT THE ENTIRE EQUIPMENT WARRANTY PERIOD.
3.3 LIFELONG SERVICE: THE SELLER SHOULD PROVIDE LIFELONG SERVICE FOR THE SOLD GOODS, THE BUYER PAY FOR NEEDED SPARE PARTS AFTER THE 12MONTHS WARRANTY TERMS.

4, WHAT IS THE DELIVERY CONDITIONS?
4.1 DELIVERY CONDITION: FOB QINGDAO PORT.
4.2 DELIVERY TERM: WITHIN 45 WORKING DAYS AFTER RECEIPT OF ADVANCED PAYMENT, THE SELLER SHOULD INFORM THE BUYER TO DO INSPECTION. THE SELLER SHOULD FINISH PACKING OF GOODS AND READY FOR SHIPMENT WITHIN 15 WORKING DAYS AFTER THE SELLER RECEIPT THE FULL PAYMENT.
4.3 SUPERVISION OF LOADING:THE SELLER SHOULD INFORM THE BUYER EXACTLING LOADING TIME, THE BUYER SHOULD ARRANGE FOR SUPERVISION OF LOADING.

5, WHAT IS THE PAYMENT TERMS?
5.1 INSTALLMENT I: 30% OF TOTAL PAYMENT TO BE PAID AT ADVANCE
5.2 INSTALLMENT II: THE BALANCE 70% OF TOTAL PAYMENT TO BE PAID BY TT OR LC AT SIGHT

6, HOW TO DO THE INSPECTION WORK BEFORE SHIPMENT?
WHEN THE MACHINE FINISHED, THE SELLER SHOULD INFORM THE BUYER TO DO INSPECTION BEFORE SHIPMENT, THE SELLER GUARANTY GOOD PERFORMANCE OF ALL THE SOLD GOODS.THE SELLER UNDERTAKE THE MATERIAL COST FOR THE MACHINE INSPECTION IN SELLER'S FACTORY. THE BUYER SHOULD COME TO SELLER'S FACTORY TO DO THE INSPECTION WORK, OR THE BUYER COULD ENTRUST ANY THIRD PARTT TO COME TO SELLER'S FACTORY TO DO THE INSPECTION WORK.

7, HOW TO DO THE INSTALLATION AND EQUIPMENT COMMISSIONING?
IF THE BUYER REQUIRES, THE SELLER SHOULD SEND TECHNICIAN TEAM TO BUYER'S FACTORY FOR INSTALLATION AND TESTING THE WHOLE LINE, AND THE BUYER SHOULD UNDERTAKE THE WHOLE FOOD/PLACE AND ROUND TICKETS (AIRPLANE, FOOD, HOTEL, AND SO ON), AND PAY SALARY TO ENGINEER FOR 80 USD/DAY/ENGINEER.

PS: Above Items are discussable according to customer's special requirements.