Plastic WPC Floor Panel Machinery PVC Foam Board/Sheet Extruder Extrusion Machine main features
1.Frequency Changer is SIEMENS G120 Series(the best one in SIEMENS)
2.Main Motor/Cutter Motor/AC Contactor/Thermal Overload Relay are Germany SIEMENS
3.Breaker is SIEMENS from Germany
4.Temperature controller:OMRON Japan
5.Origin of Screw:Zhousan,Zhejiang

6.The material of Barrel is Japanese SKD
7.The mould is designed by our company with the latest technology in China
8.Calibration mould:Thickness is 100mm

9.Material formulation:we can input 100% recycled material.

10.Our Certificates :CE,ISO9001,SGS,TUV
We have set up the strategic partner relationship with SIEMENS and we are the only factory use German SIEMENS electric for Plastic WPC Floor Panel Machinery PVC Foam Board/Sheet Extruder Extrusion Machine at present in China
| | |
| --- | --- |
| Finished Product Size | 1220x2440mm with thickness:3mm-25mm |
| Main Material | PVC/CaCO3/Processing Additives |
| Extruder | 80/156 Conical Double-Screw Extruder |
| Production Capacity | 300kg-400kg/h |
| Air Pressure | 0.6Mpa/min |
| Power Supply | 3P/380V/50HZ |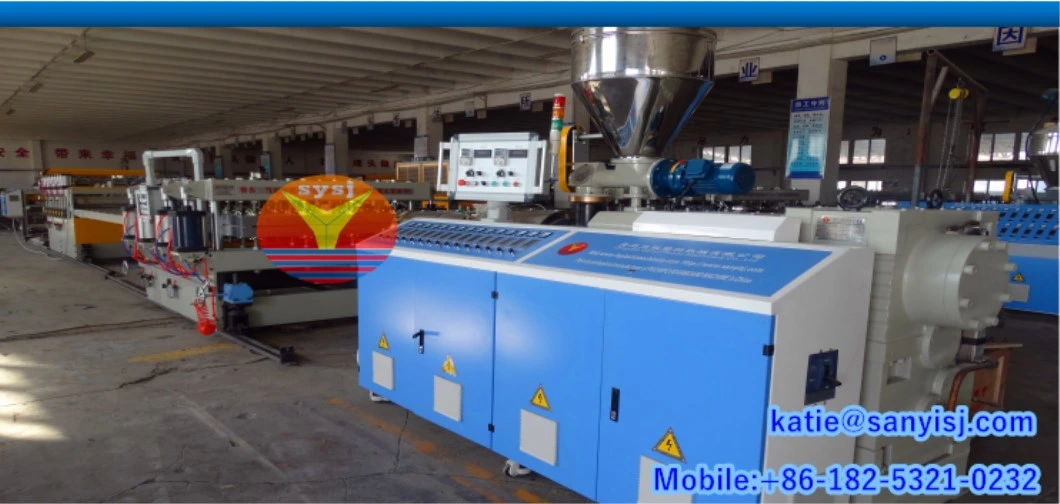 PRODUCTION FLOW
The Plastic WPC Floor Panel Machinery PVC Foam Board/Sheet Extruder Extrusion Machine includes
1)Automatic feed loader
2)Conical twin screw extruder -SJSZ80/156
3)Corresponding PVC celuka foam Mould
4)Calibartion Platform
5)Cooling Bracket
6)Haul Off Device
7)Cutting Device
8)Stacker with compact structure and superior performance
The gear device,screw barrel and foaming T-die all are co-researched together with China well-known factory
Extruder adopts frequency control,screw and bareel is specially designed with super cone structure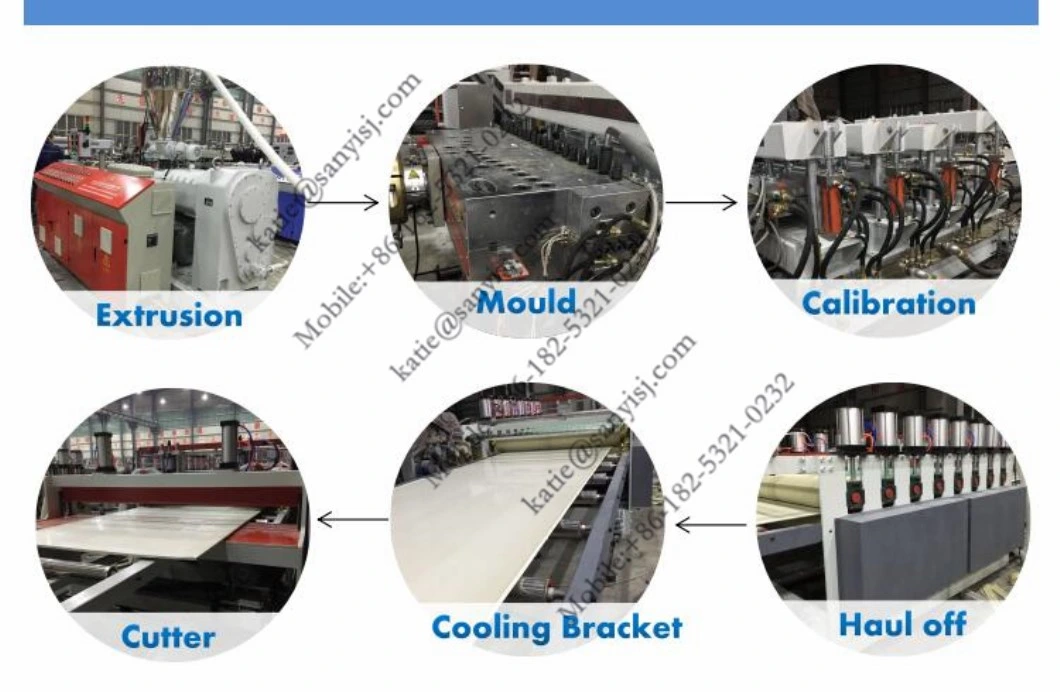 AUXILIARY MACHINES FOR YOUR CHOICE
We also provide the Auxiliary Machine for Plastic WPC Floor Panel Machinery PVC Foam Board/Sheet Extruder Extrusion Machine
| | | | |
| --- | --- | --- | --- |
| No. | Name of Machine | Type | Quantity |
| 1 | Crusher | SWP380 | 1 set |
| 2 | Grinder | SMF660 | 1 set |
| 3 | Heat/Cooling Mixer | SRL-Z600/1000 | 1 set |
| 4 | Chiller | 20HP | 1 set |

WPC Floor Informations
WPC also called Geener wood is the macromolecular mixture of Wood Flour,PVC and Calcium Carbonate
(Wood Plastic Composite )WPC contains the advantages of wood and plastic in performance
WPC floor is a new and high-tech environmental protection material. It is the product of the mixing wood powder (wood cellulose, plant cellulose), plastic and processing agent going through the extruding mould. WPC floor/WPC wood plastic foam board has the properties and features of both wood and plastic. It is the perfect substitute for wood and plywood.
WPC Floor/WPC Wood Plastic foam board can be worked with the tools for wood material. It's easy for sawing, drilling, nailing, bonding and planning. Meanwhile, WPC Wood Plastic foam board combines the wood texture of wood and the anticorrosion and waterproof features of plastic. It is a kind of durable outdoor waterproof and anticorrosion building material with excellent performance.
WPC Floor normally include
1)UV Layer 2)Wear-Resistant Layer 3)Decorative Layer 4)LVT Layer 5)PUR/PVR Glue
6)WPC Floor Board(produced by SANYI PVC WPC floor board extrusion machine)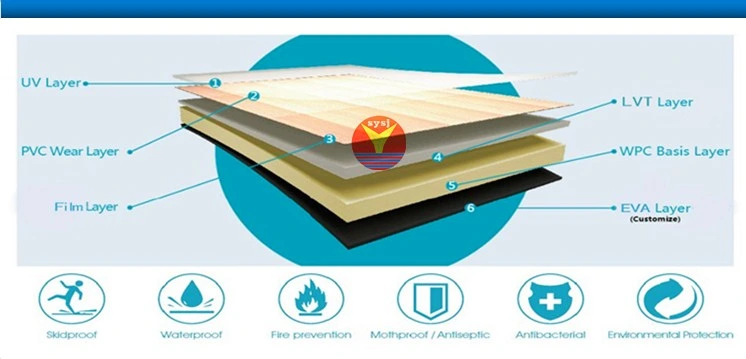 SANYI Plastic WPC Floor Panel Machinery PVC Foam Board/Sheet Extruder Extrusion Machine can produce the different thickness(2mm-8mm)/size(1220mmx2440mm or 970mmx2000mm) WPC floor board according to your specific requestment
1. Construction industry:
Building formwork board, outdoor board, indoor decoration board, residential house board, office board, separation wall of public building,
commercial decoration frame, board used in dust-free room
2. Furniture and Household decoration:
Bathroom cabinet board, kitchen cabinet board, furniture board, home decoration board
3. Advertisement industry:
Screen printing, computer engraving, advertisement board, exhibition plate, logo plate
4. Transportation industry:
Ship, plane, bus, and train, floor covering, core layer, indoors decoration plate
5. Industrial application:
Suitable for rot-proof project in chemical industry, thermal forming, refrigeration warehouse

SANYI CERTIFICATION
ISO9001/CE Certificate/TUV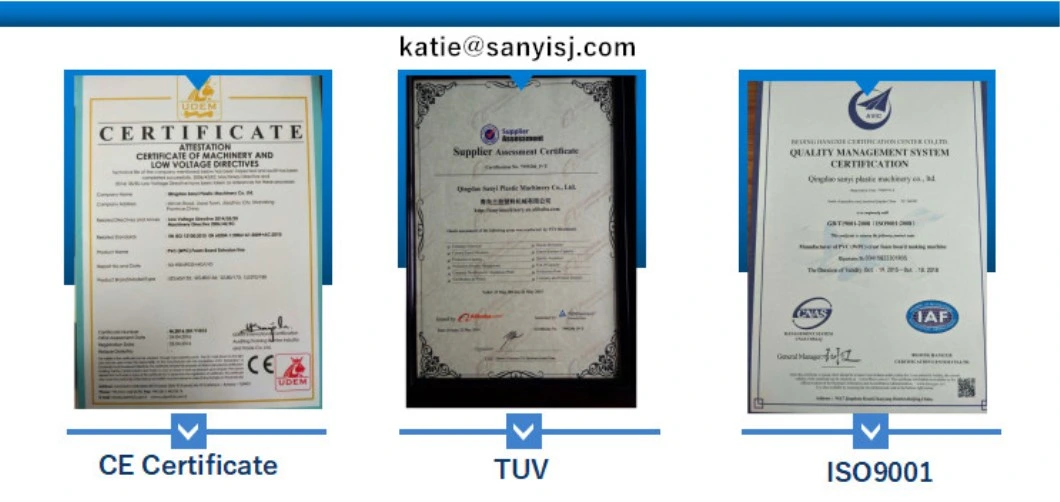 WHY YOU CHOOSE SANYI?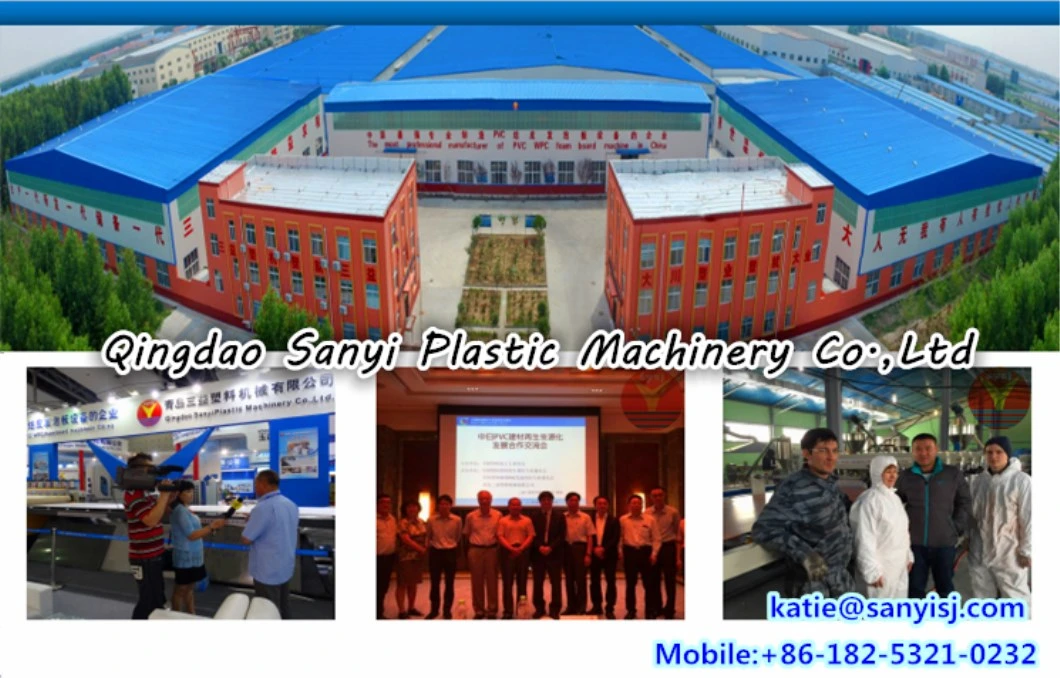 Qingdao Sanyi Plastic Machinery Co., Ltd. located in Qingdao, City,Shandong Province,China;We are the professional manufacturer specialize in the Plastic WPC Floor Panel Machinery PVC Foam Board/Sheet Extruder Extrusion Machine from the year of 2006 ,We have been keeping researching and developing our production line for more than 10 years and have improved to the latest 15th generation. Our PVC foam sheet extruder production line PVC foam board plastic extrusion machine shows superior performance and capacity. It can be used to produce pvc/wpc construction formwork sheet, pvc/wpc furniture sheet, pvc/wpc advertisement sheet, pvc kitchen/bathroom cabinet board etc
1.Development Center
We establish the new field of research and development centers and the building template center
2.Well-known Experts
Employ the domestic well-know experts, and cooperate the Nations front-line experts,combine the country's top level professional theory and our experience which is our technical team a decade of experience. And we create the new series of low-cost high quality formula.
3.Germany Technology
SANYI learn the German technology and SANYI is the unique company cooperates with the German Krauss-Maffei machinery enterprises (World top machinery companies) in China at present
4.Sophisticated Brand
SANYI is the unique domestic machine industry who signed the strategic partnership agreement with SIEMENS company. The use of sophisticated brand of sophisticated equipment.
5.Conference
SANYI machinery hosted and co-hosted a variety of industry annual meeting in recent years, (hosted the China Plastics Processing Industry Association 2014 Annual Meeting, and co-organized by China Association for the 30th anniversary of Formwork and Scaffolding Annual Meeting) we combine and take good use of the theory and experience of domestic experts and scholars
SANYI is the unique Chinese factory provides the LIFE-LONG service system as we take much attention the feedbacks from our customers

Pre-sale service:
To provide information and market research,to provide consultation,to provide many kinds of conveniences and market service,etc.
The main purpose of pre-sales service is to help customers make the project planning and system requirements analysis. Make our products maximum to meet clients' requirements. Also play the greatest overall economic benefits of customers' investment.
After-sale service:
To install products and test products freely for customers.
To provide the formulas and technologies of relevant products and the information of chemical materials manufactories.
To direct technology aspect of relevant use according to customers' requirements
To provide technical training for clients' employees.
To be responsible for maintenance service, door-to-door service under the necessary circumstance.
Technology support:
To provide installation and test for the machine.
To provide formulas and technology of relevant products.
To provide information of chemical material manufactories.
To provide technical training for clients' employees.
SANYI is the 1st company in China running the Plastic WPC Floor Panel Machinery PVC Foam Board/Sheet Extruder Extrusion Machine with width:2050mm at the exhibition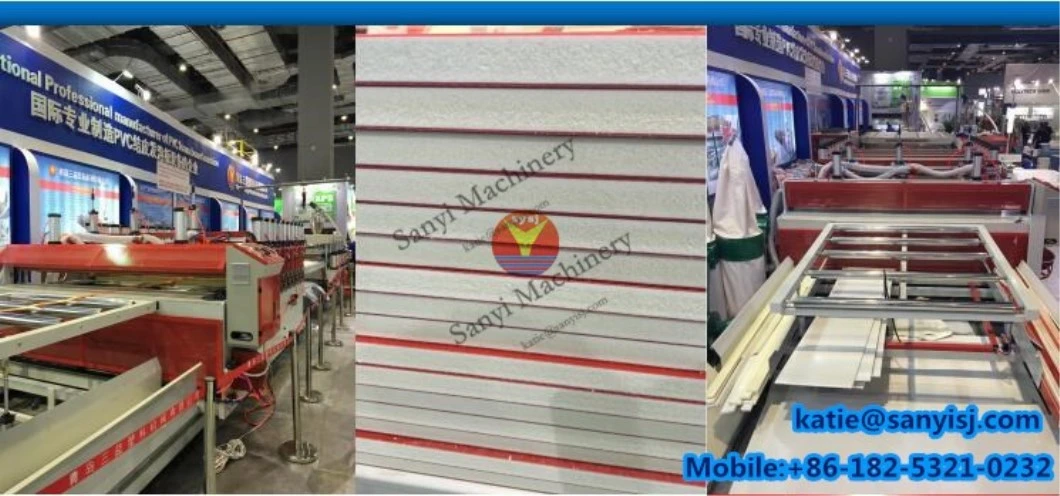 If you would like to know more technology informations about our Plastic WPC Floor Panel Machinery PVC Foam Board/Sheet Extruder Extrusion Machine ,pls feel free to contact us

Mrs.Katie Wan