Jwell- PVC Plastic Wood-Plastic soundproof wall decoration Recycling extrusion machine for KTV|hotel
PVC WPC Wood Plastic quick assembling board Extrusion Line
The machine is used for producing WPC decoration product, which is widely used in house and public decoration field, features non-polution, high lifetime, heat insulation, anti-fire, easy clean and maintanance, easy change and recycleable. It can be of high quality decoration material, ceiling, door frame, window frame, sound proof and heat insulation.
Main techincal parameter
| | | | | | |
| --- | --- | --- | --- | --- | --- |
| Type | YF180 | YF300 | YF400 | YF600 | YF800 |
| Specifications | 200 | 300 | 400 | 600 | 800 |
| Extruder type(SJZ series) | 51/105 | 65/132 | 65/132 | 65/132 | 80/156 |
| Power(Kw) | 18.5 | 37 | 37 | 37 | 55 |
| Water consumption(m³/h) | 5 | 6 | 7 | 8 | 10 |
| Gas consumption(Mpa) | 0.6 | 0.6 | 0.6 | 0.6 | 0.8 |
A,PVC /WPC(composite)wood plastic quick assembling wall panel extrusion line consists from:
PVC Conical twin screw extruder,Calibration table,Haul-off unit ,Cutter,Stacker.
B,
Equipment model:
1,SJZ80/156-YF600 model:suitable for 300-600 wood plastic wall panel,designed capaity 350-400KG/H.
2,SJZ65/132-YF600 model:suitable for 300-600 wood plastic wall panel,designed capaity 150-200KG/H.
3,SJZ65/132-YF300 model:suitable for 150-300 wood plastic wall panel,designed capaity 150-200KG/H.
4,SJZ51/105-YF240 model:suitable for producing wood plastic decorative corner,edged line,belt line etc...designed capaity 80-120KG/H.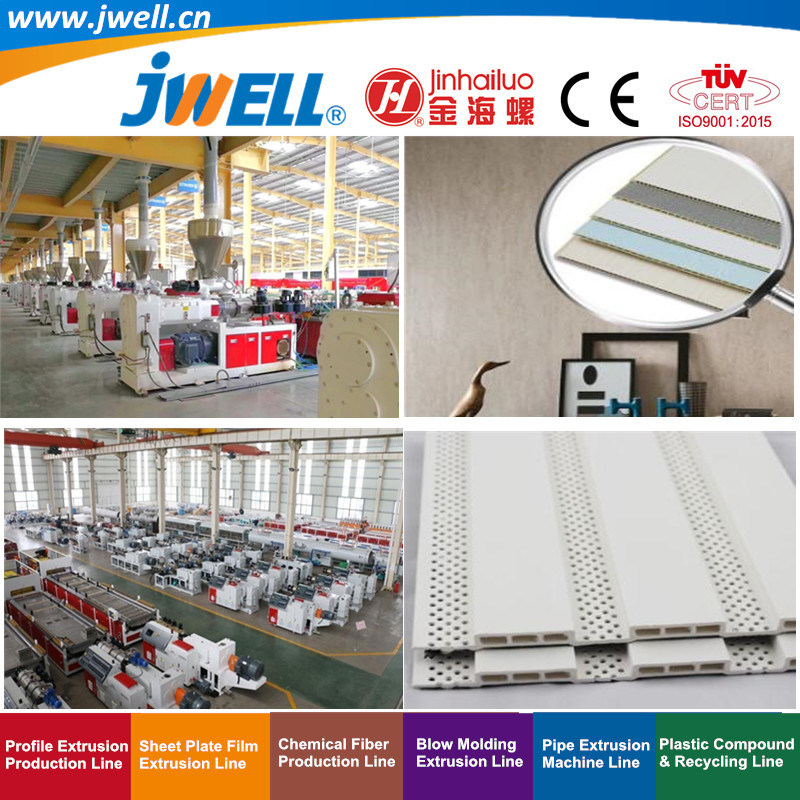 C,
Material feeding system consists:
1,500/1000 high speed inverter mixer.
2,PVC vertical type 2 Ton of storage bin.
3,Spiral feeder 5,JWS35/25 co-extruder:suitable for sealing strip co-extrusion usage.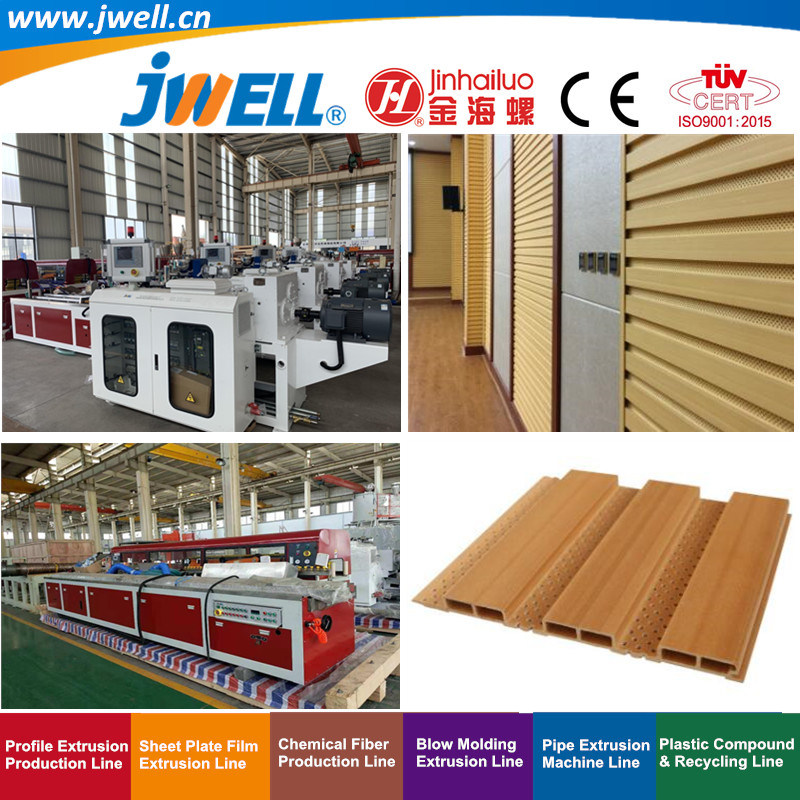 D,
Surface treatment-Lamination machine
1,OTR600 Lamination machine
2,OTR300 Lamination machine
E,
Wood plastic wall panel mould
1,150-600 wood plastic mould
2,Wood plastic corner line mould
3,Calibrator +Calibrator plate
4,Water tank
F,
PVC wood plastic wall panel weight per meter and line speed
With the advantages of moistureproof, flame retardant, environmental protection and convenient installation, integrated wall decoration has attracted more and more attention of the home decoration industry. Consumers'pursuit of quality of life, integrated wall decoration not only meets consumers' demand for environmental protection of home decoration, but also is beautiful and fashionable, which can be described as the best of both worlds. Five advantages of PVC/WPC wallboard
, which is also called bamboo-wood fiber integrated wallboard in this article
: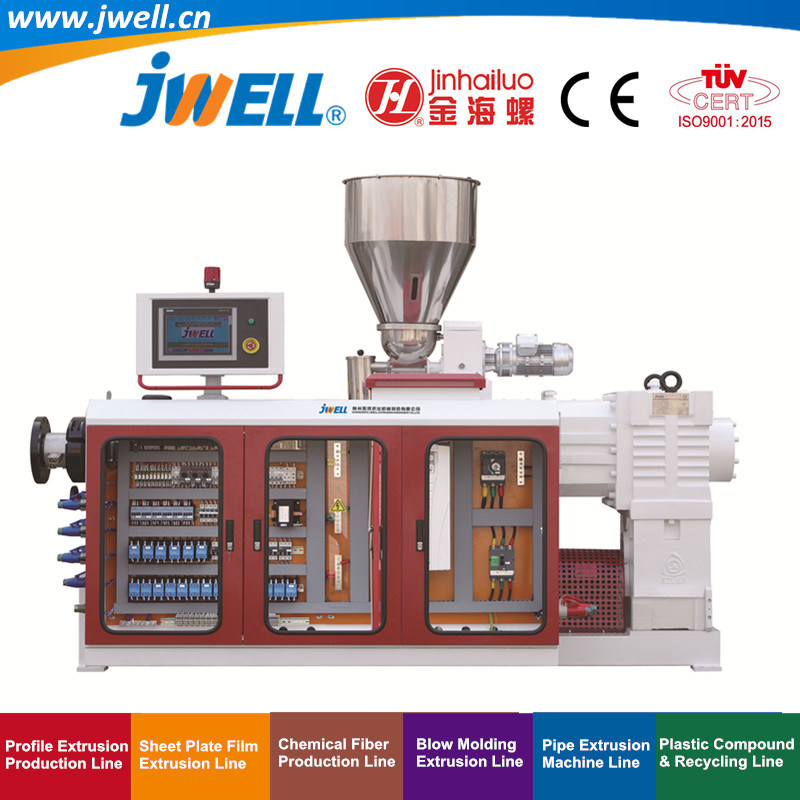 First, as a new industry, whether facing the market or consumers, wall furniture is both a challenge and an opportunity. Therefore, we should rectify our thinking and unify our understanding to promote
the orderly development of wall furniture health industry
.
Secondly,
bamboo-wood fiber integrated wallboard inherits European art, combines the historical and cultural characteristics of our countr
y, and highlights the new trend of home decoration in the era. The colorful European art and the thick classical history and culture of our country make the bamboo-wood fiber integrated
wallboard more hierarchical, abandon the single boredom of traditional walls, make your life full of fresh feeling every day, audio-visual touch and smell all-round
three-dimensional experience, let you integrate into real life and relieve the heavy work when you get home. Let's fly our hearts!
Third, customer satisfaction has always been the driving force of bamboo and wood fiber integrated wallboard
, from 3D stereo wallboard to personalized customization, aiming at serving customers and meeting their new needs for integrated wallboard.
With the improvement of people's living standard, the wall quality is one aspect. On the other hand,
people pay more and more attention to individualized products.
Bamboo-wood fiber integrated wallboard launches individualized customized wallboard to meet the individualized needs of consumers. Consumers provide materials. With the help of digital printing technology, bamboo-wood fiber integrated wallboard is printed on the wall. Now the real unique, the real wall of your home! Bamboo and wood fiber integrated wallboard gives your family a surprise, but also a surprise to yourself.
Fourth, do not shovel the wall, do not move the soil,
quality is the basic, fast key installation is convenient and clean, no formaldehyde, no paint, no glue, no pollution, to achieve real clean environmental protection
, this is a major change in the history of China's national decoration! This is the perfect combination of science and art!
Fifth, from tooling to home decoration, to civil use, bamboo-wood fiber integrated wallboard makes intelligent integrated
wallboard truly enter the lives of the public, create a wall decoration myth
! Release space, emancipate the mind, bamboo-wood fiber integrated wallboard is your best choice for home decoration!
Summary: Make your home healthier and your life easier. People-oriented, win by quality, fashion trend vane of home decoration - bamboo-wood fiber integrated wallboard.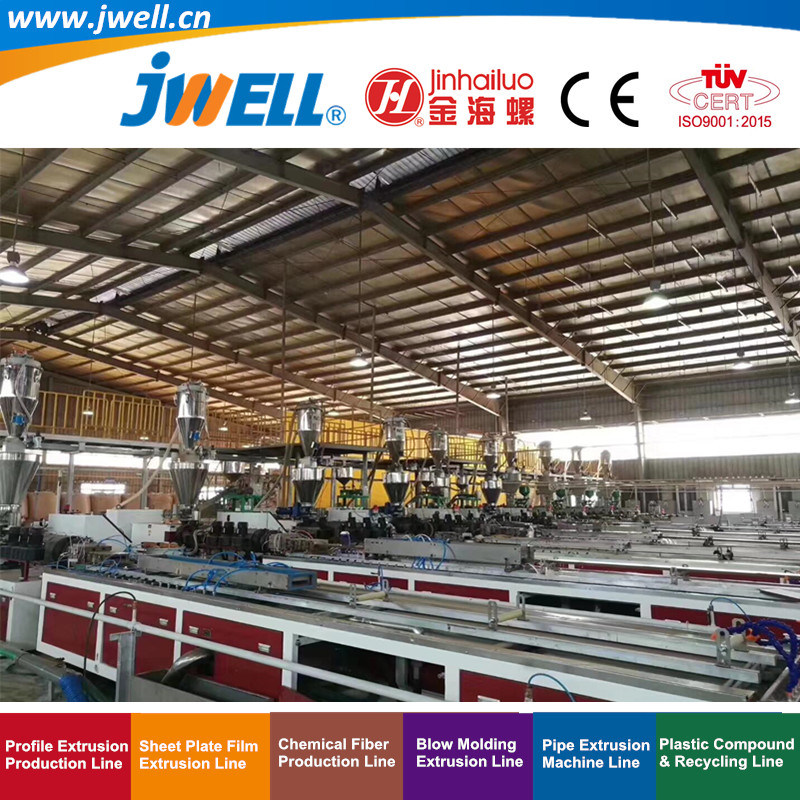 With rich production experience, JWELL can provide on-site installation and debugging services freely, including operation train and raw material formula , to insure the customer can operate autonomously.
Jwell PE WPC wood-plastic composite board extrusion production line suitable for outdoor furniture/ flooring/pavilion/ public facilities.
Jwell offer
WPC
door board deck profile extrusion line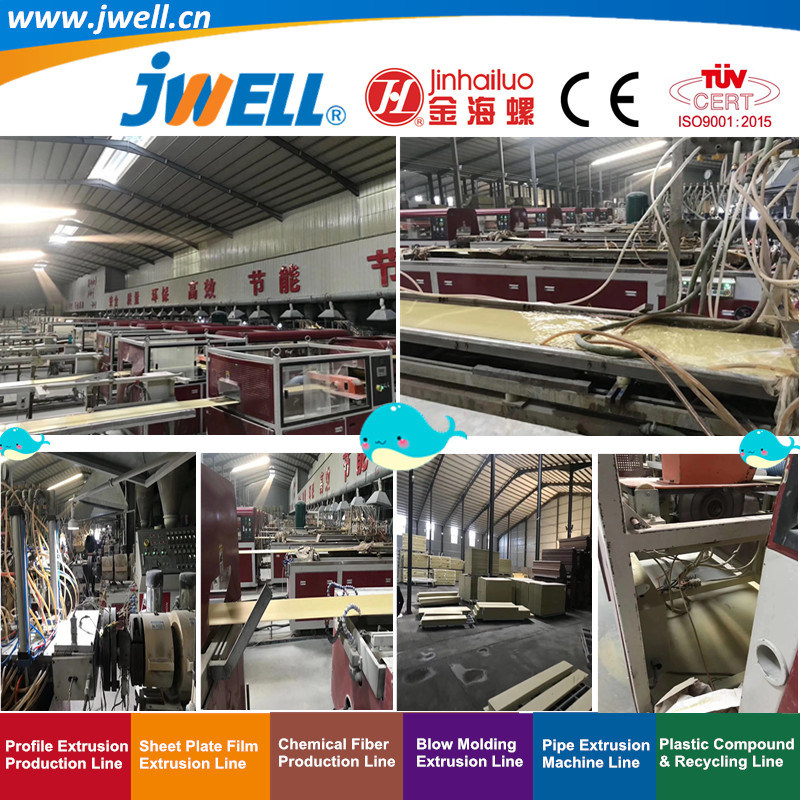 JWELL
PVC Wood Panel Extrusion lines
successfully
running in our
customer factory.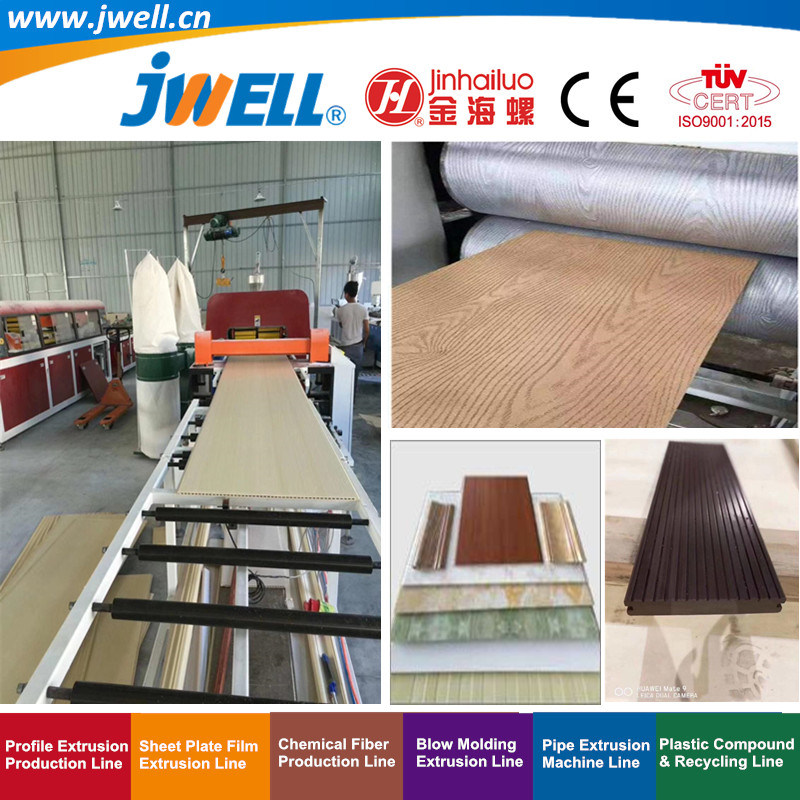 We only choose qualified supplier
--Jwell excellent partner
We work closely with world famous brand,your equipment can also be equipped with any compond brand as you wish.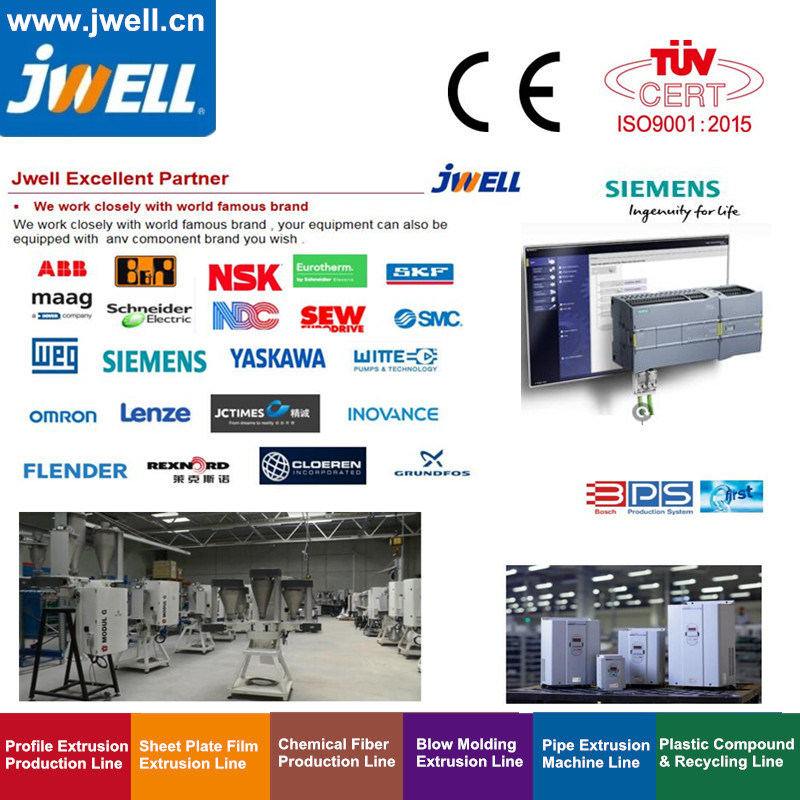 All Key parts: screw&barrel,
T-die, roller and downstream equipment are made by Jwell factory!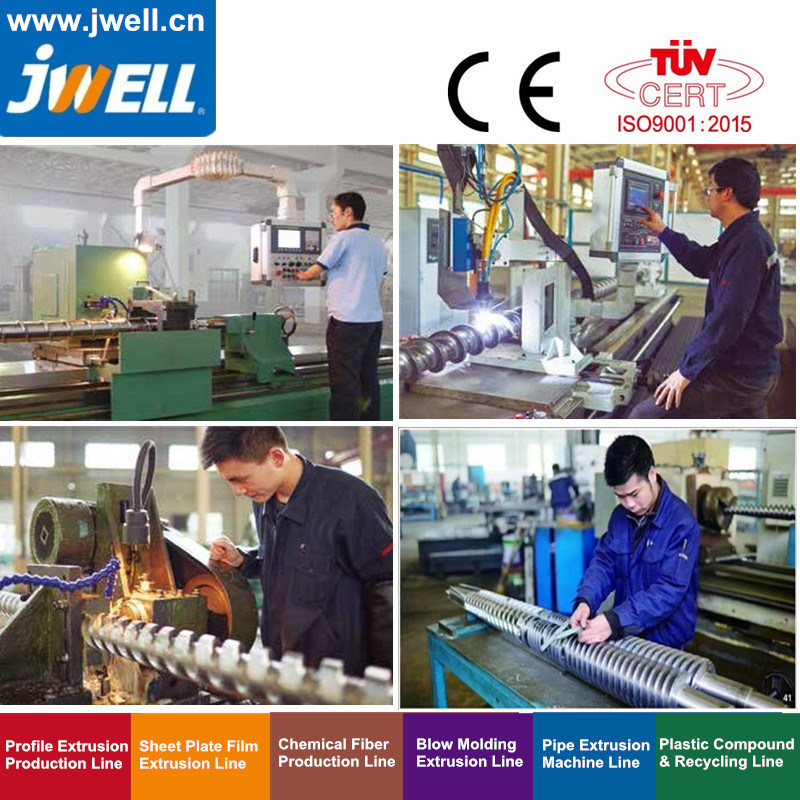 C
ompany Information
SUZHOU JWELL MACHINERY CO., LTD. is located in TaiCang city, Jiangsu province, abutting Jiading district, Shanghai City. It's high-tech manufacturer specializing in research & development and producing extrusion equipment. There are total over
1
000 employees, 280 are technical and management staffs. Company has good R & D employees and experienced mechanical , electrical commissioning engineers as well as advanced mechanical machining base and normative assembly workshop.
Main products: various plastic pipes extrusion lines; various plastic profile extrusion lines; various plastic plate & sheet extrusion lines including Jwell
PVC SPC Calcium-plastic Environmental Floor Extrusion
lines and
PC PP PE plastic hollow cross section plate extrusion line
; chemical fiber spinning; microcomputer controlled automatic blow molding machines; plastic auxiliary recycling lines; various single & twin screw and barrel extruders; T die; screen exchangers; Rollers and Robots.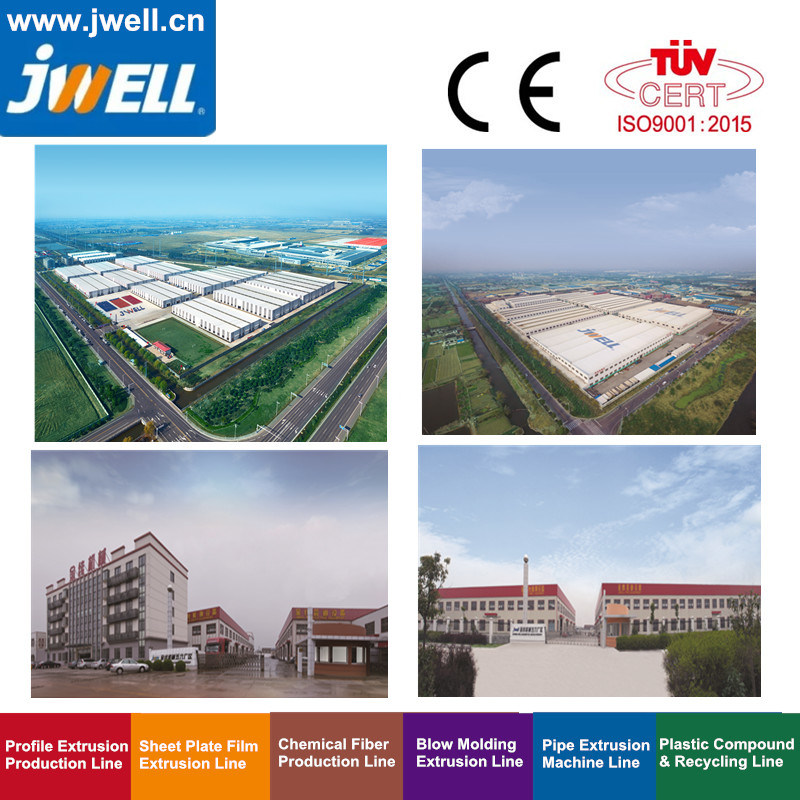 FAQ
Q1. Is Jwell Machinery Manufacturer?
A1: Jwell made the first Chinese screw and barrel in 1978 in brand name Jinhailuo
. After more than
40
years development, JWELL is
one of the biggest
extrusion machine supplier in China with 300 design&test engineer, 3000 employee
s
. We own
5 manufacturing bases and sales center in Shanghai , Suzhou , Changzhou, Zhou Shan, Dongguan
China.
Jwell has become the premier supplier of extrusion lines and reliable business partners.
Welcome to drop in us.
Q2:
How many brands does Jwell Machinery own
?
A2:
Jwell Machinery owns more than 20 subsidiaries, China famous brand JINHAILUO, JWELL, BKWELL, DYUN are our Trade Marks.
Q3:
If we don't find what we need from your website , What should we do ? Do you make extrusion lines as per customers' specific requirement?
A3: Yes,
we can provide bespoke service to customers with specific requirements. You can send the detailed requirements by email. We will check if we can develop them. We develop new machinery every month, and some of them may not yet be updated on our website.
Q4:
How do you ensure your machinery and service quality?
A4:
Our machines taking the European standards and follow the Germany type of business, we cooperation with International famous brands Siemens Schneider Flender Omron ABB WEG Falk Fuji etc.
Our company continuously imports over 1000 international first-class high precision processing equipment such as multistage machining centers, NC lathes and CNC milling machines from Korea, Japan etc
.
All our processes strictly adhere to CE certification, IS09001 and 2008 quality management system . And we have 12 months quality warranty time. We testing the machine performances before each delivery. Jwell service engineers will always be here for anything you needed.
Q5: How
can I order and make payments?
A5:
Once clear your requirements and determined extrusion line is ideal for you. We will send technical solutions and Proforma Invoice to you. You can pay via TT bank transfer, LC as you like.
Q6:
If we find your bank account or email different as before, how should we respond?
A6:
Please don't send the payment and double check with us before arrange payment (Bank details will be listed in every piece of proforma invoice. )
Q7: How long is the
delivery date
?
A7: Usually it takes about
1
-
4 months depends on different machinery
upon receipt of order advance payment.
Q8:
What is your Minimum Order Quantity
?
A8:
One. We provide both customized extrusion lines and technical solutions. Welcome contact with us for technical innovation or improvements for your future purchasing plan.
Q9: What is your production capacity?
A9: We produce more than 2000 advanced extrusion lines every year world wide.
A10: What about shipping?
Q10: We can send the small spare parts by air express for urgent matter. And the complete production line by sea to save the cost. You can either use your own assigned shipping agent or our cooperative forwarder. The nearest port is China Shanghai, Ningbo port, which is convenient for maritime transportation.
Q
11
: Is there any pre-after sale service?
A
11
: Yes, we support our
business
partner
s
by pre-after sale service.
Jwell has more than 300 technical testing engineers traveling world wide.
Any case
s
would be re
sponded with
prompt solutions.
We provide training, testing, operation and maintenance service for a life time.
Q1
2
:Are our business& money safe with
Jwell Machinery
?
A1
2
: Yes, your business is safe and your money is safe. If you check China company blacklist, you will see that it is not contain our name as we never crook our customer before.
JWELL enjoys high reputation from the customers and our business and customers grows year by year.
Best regards!
Sincerely yours,
Dolphin Zhu
, Sales Manager
Suzhou Jwell Machinery Co., Ltd.
Add
ress
:
No.18, DongAn Road, ChengXiang Industrial Zone, TaiCang City 215400, P.R. of China.
Postal No.:215400
Tel/fax: 0086-5
12
-
53377002
Web:
jwellmachinery.en.made-in-china.com
PHONE:+86 158 0622 2881
Jwell- PVC Plastic Wood-Plastic soundproof wall decoration Recycling extrusion machine for KTV|hotel