Jwell-PLA Pet Plastic Biodegradable Sheet Recycling Plastic Cup Making Extrusion Machine for Food Packing|3-D Printing|Garbage Bag|Agricultural Mulch Film

Poly(lactic acid) or polylactic acid or polylactide (PLA) is a biodegradable and bioactive thermoplastic aliphaticpolyester derived from renewable resources, such as corn starch (in the United States and Canada), cassava roots, chips or starch (mostly in Asia), or sugarcane (in the rest of the world). In 2010, PLA had the second highest consumption volume of any bioplastic of the world.

polylactide, polylactic acid, PLA also called polytrimethylenecarbonate;1,3-Dioxan-2-one homopolymer

Producers have several industrial routes to usable (i.e. high molecular weight) PLA. Two main monomers are used: lactic acid, and the cyclic di-ester, lactide. The most common route to PLA is the ring-opening polymerization of lactide with various metal catalysts (typically tin octoate) in solution, in the melt, or as a suspension. The metal-catalyzed reaction tends to cause racemization of the PLA, reducing its stereoregularity compared to the starting material (usually corn starch).

Another route to PLA is the direct condensation of lactic acid monomers. This process needs to be carried out at less than 200 °C; above that temperature, the entropically favored lactide monomer is generated. This reaction generates one equivalent of water for every condensation (esterification) step. The condensation reaction is reversible and subject to equilibrium, so removal of water is required to generate high molecular weight species. Water removal by application of a vacuum or by azeotropic distillation is required to drive the reaction toward polycondensation. Molecular weights of 130 kDa can be obtained this way. Even higher molecular weights can be attained by carefully crystallizing the crude polymer from the melt. Carboxylic acid and alcohol end groups are thus concentrated in the amorphous region of the solid polymer, and so they can react. Molecular weights of 128-152 kDa are obtainable thus.


Polymerization of a racemic mixture of L- and D-lactides usually leads to the synthesis of poly-DL-lactide (PDLLA), which is amorphous. Use of stereospecific catalysts can lead to heterotactic PLA which has been found to show crystallinity. The degree of crystallinity, and hence many important properties, is largely controlled by the ratio of D to L enantiomers used, and to a lesser extent on the type of catalyst used. Apart from lactic acid and lactide, lactic acid O-carboxyanhydride ("lac-OCA"), a five-membered cyclic compound has been used academically as well. This compound is more reactive than lactide, because its polymerization is driven by the loss of one equivalent of carbon dioxide per equivalent of lactic acid. Water is not a co-product.


Several technologies such as annealing, adding nucleating agents, forming composites with fibers or nano-particles, chain extending and introducing crosslink structures have been used to enhance the mechanical properties of PLA polymers. Polylactic acid can be processed like most thermoplastics into fiber (for example, using conventional melt spinning processes) and film. PLA has similar mechanical properties to PETE polymer, but has a significantly lower maximum continuous use temperature. With high surface energy, PLA has easy printability which makes it widely used in 3-D printing.
There is also poly(L-lactide-co-D,L-lactide) (PLDLLA) - used as PLDLLA/TCP scaffolds for bone engineering.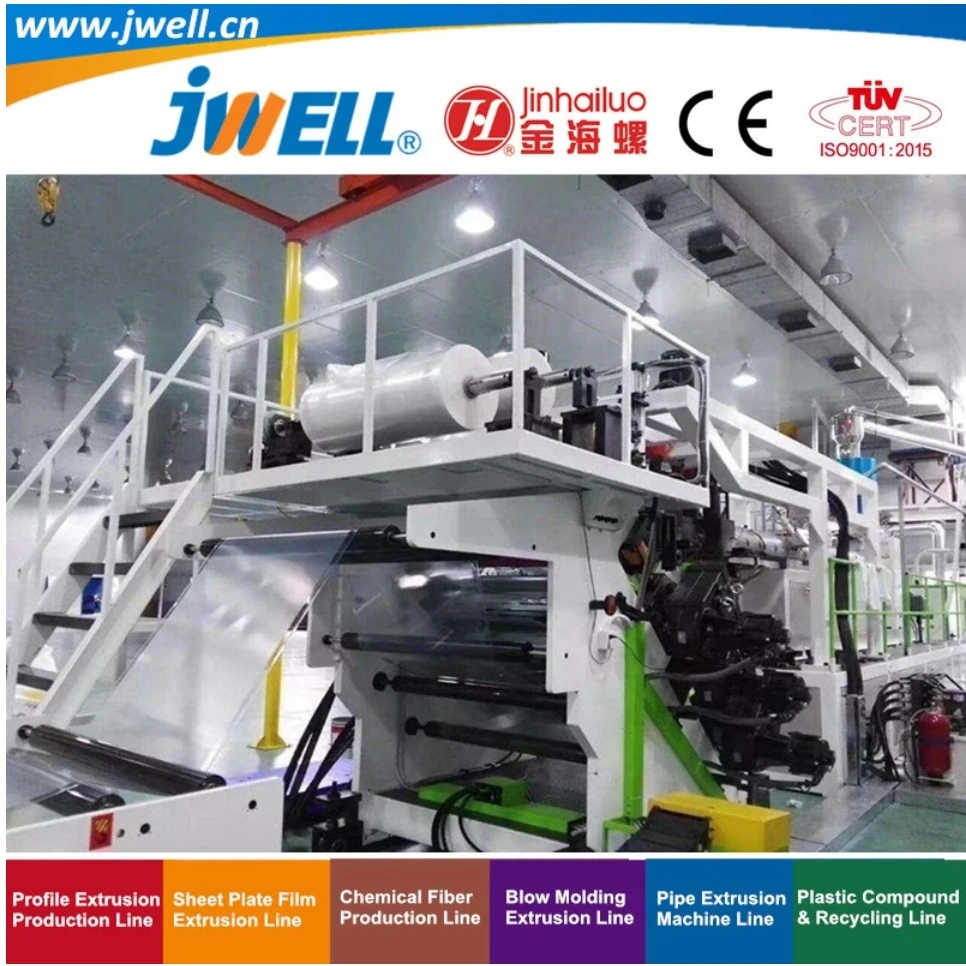 Jwell offer environmental #PLA sheet extrusion equipment line .Biodegradable PLA sheet line running at domestic client's factory.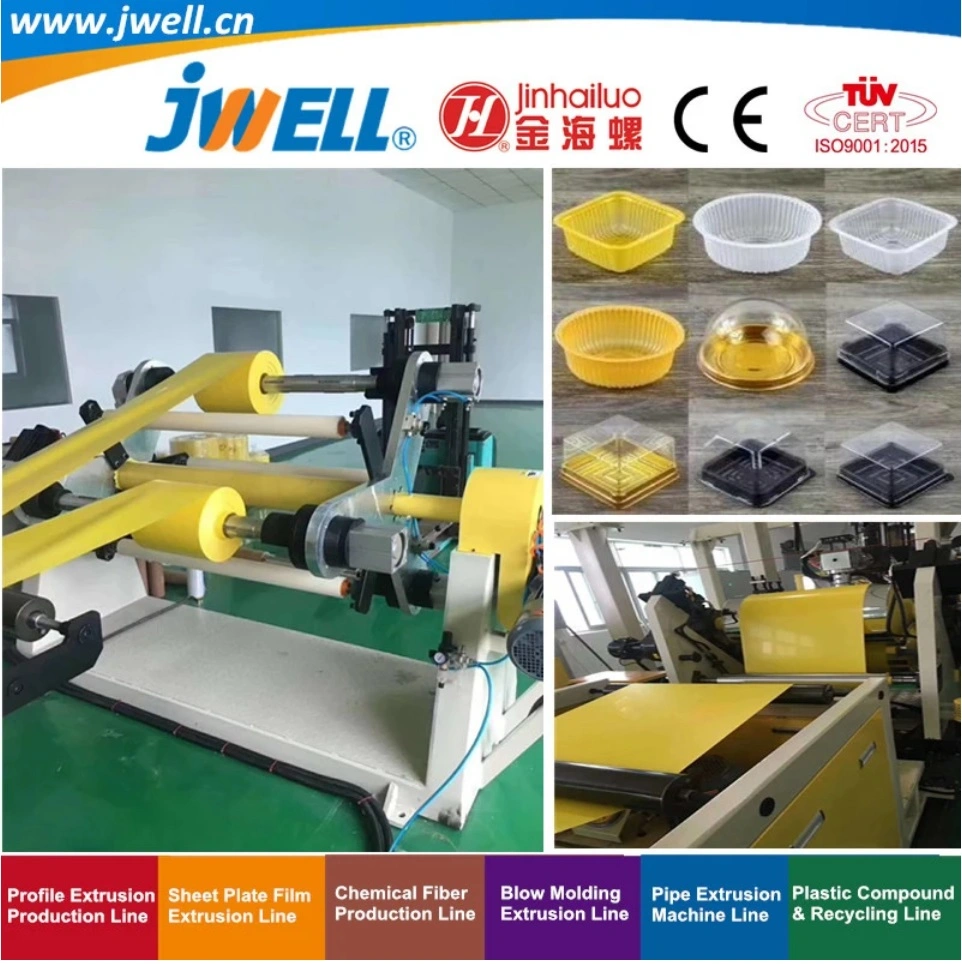 Jwell PET sheet extrusion production line commissioning smoothly, the production of PET, the PLA after molding, sheet shape absorption used in food packaging.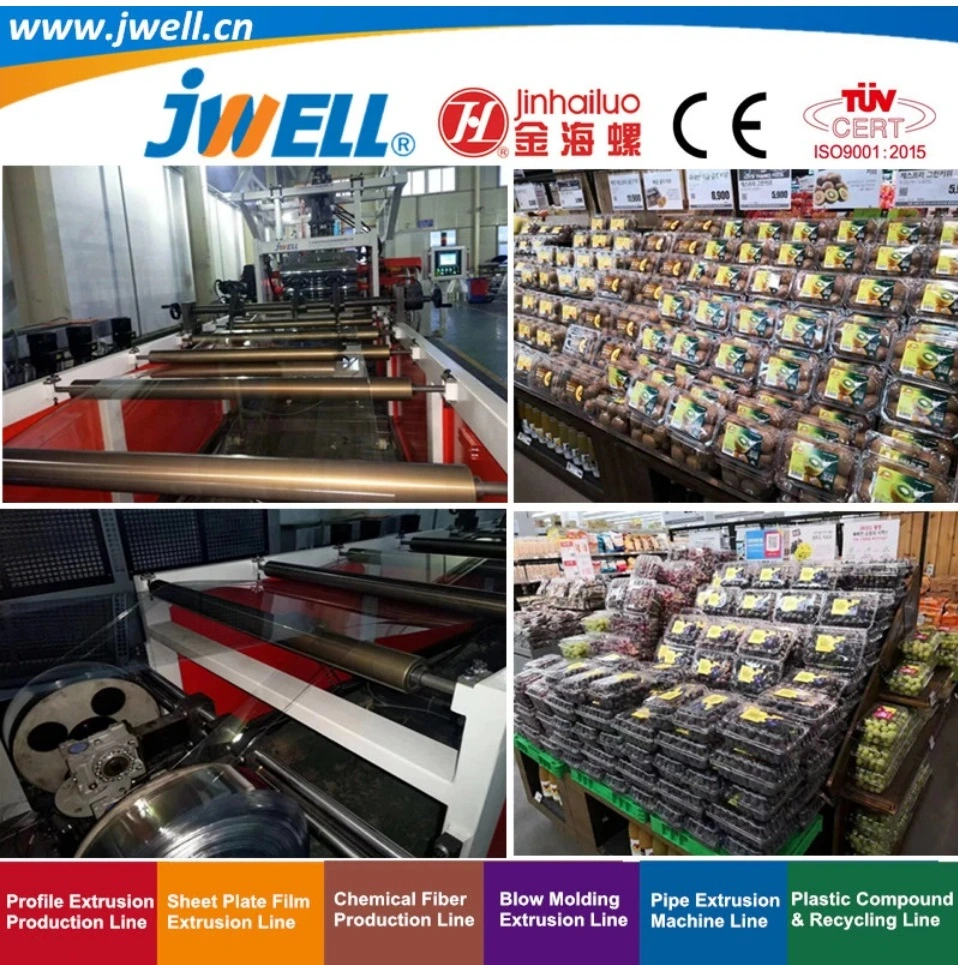 | | | | | |
| --- | --- | --- | --- | --- |
| Model | Extruder model | Products thickness(mm) | Main motor power(kw) | Max extrusion Capacity(kg/h) |
| Multi layer | JWE75/40+JWE52/40-1000 | 0.15-1.5mm | 132/15 | 500-600 |
| Single layer | JWE75/40-1000 | 0.15-1.5mm | 160 | 450-550 |
| Highly-efficient | JWE95/44+JWE65/44-1500 | 0.15-1.5mm | 250/75 | 1000-1200 |



Company Information
Jwell made the first Chinese screw and barrel in 1978 in brand name Jinhailuo after hundreds time of testing. After more than 35 years development, JWELL is one of the biggest extrusion machine supplier in China with 5 factories, 300 design & test engineer, 3000 employee located in Zhoushan, Shanghai, Taicang, Dongguan, Liyang. Jwel have already provided more than 500 lines located in all countries. 300 Engineers are travelling in the world throughout year for installation and test of machine, the after-service are free and available forever.
Main products: various plastic pipes extrusion lines including large diameter PE/PVC double wall corrugated pipe extrusion line, large diameter PE/PVC solid wall pipe extrusion line, PP-R/PEX/PE-RT cool/hot water pipe extrusion line, PA/PE/PVC single wall corrugated pipe extrusion line; various plastic profile extrusion lines; various plastic plate & sheet extrusion lines; chemical fiber spinning; microcomputer controlled automatic blow molding machines; plastic auxiliary recycling lines; various single & twin screw and barrel extruders; T die; screen exchangers; Rollers and Robots.
All Key parts: screw & barrel,
mould, calibrator
and downstream equipment are made by Jwell factory!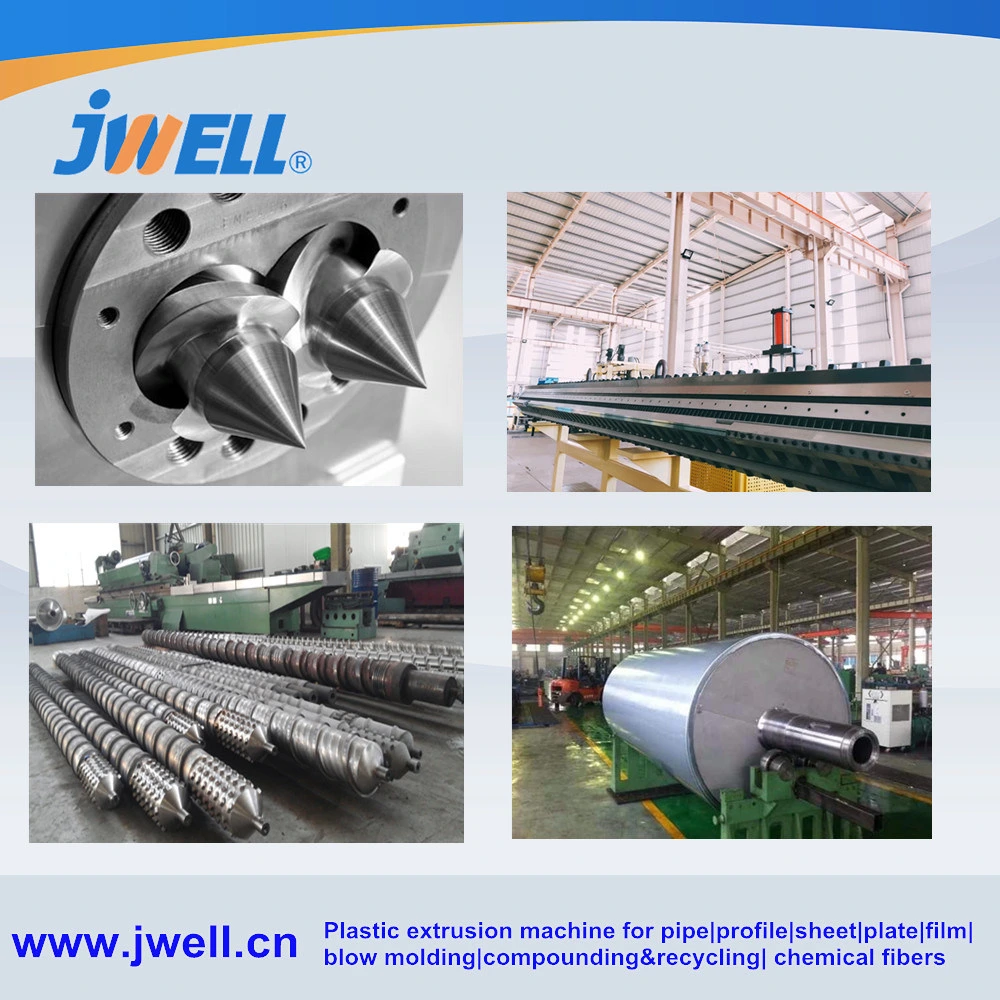 We only choose qualified supplier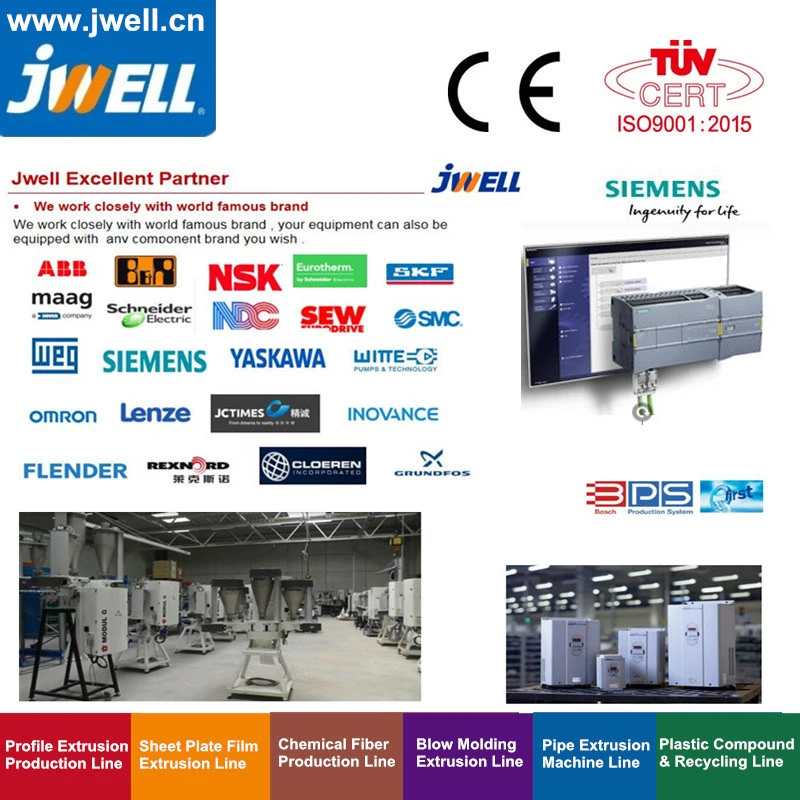 Jwell machining workshop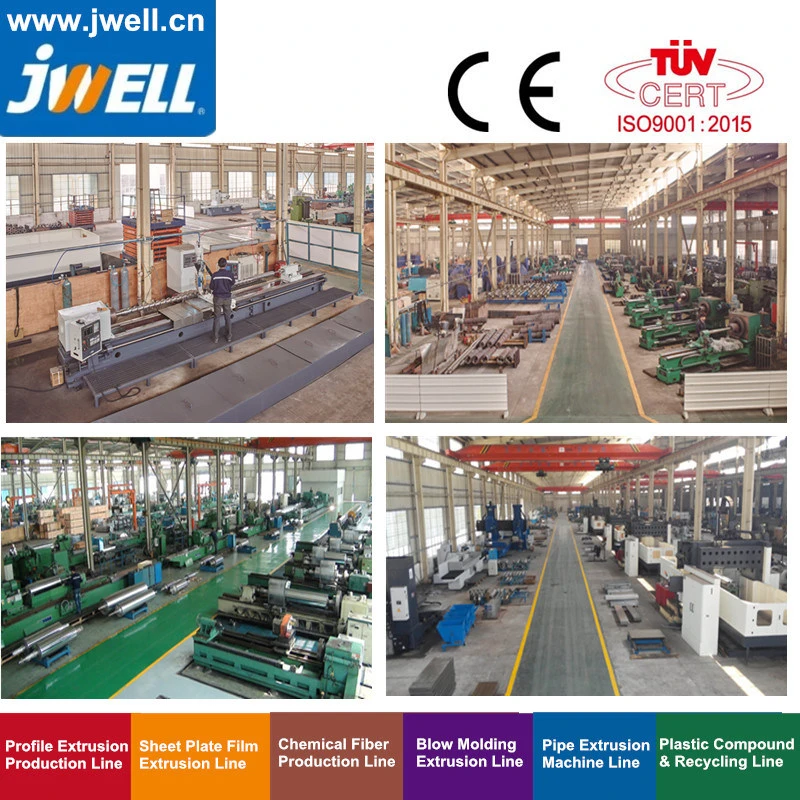 Assemble workshop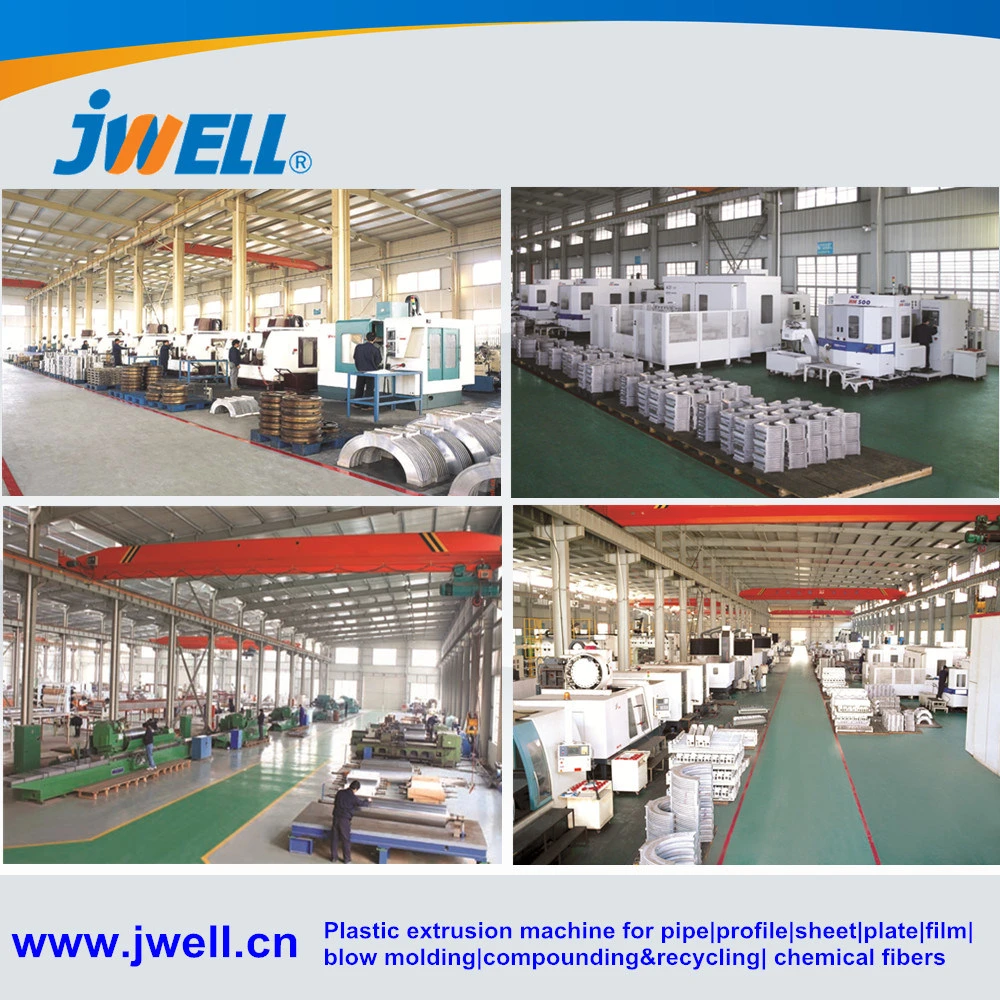 Jwell factories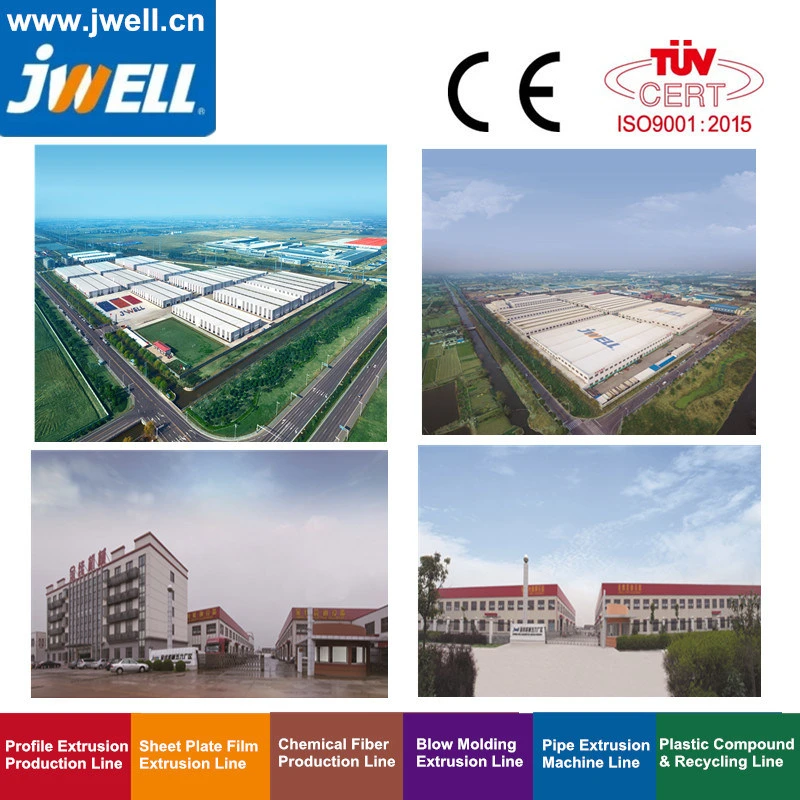 Q1. Is Jwell Machinery Manufacturer?
A1: Jwell made the first Chinese screw and barrel in 1978 in brand name Jinhailuo. After more than 40 years development, JWELL is one of the biggest extrusion machine suppliers in China with 300 design & test engineer, 3000 employees. We own 5 manufacturing bases and sales center in Shanghai, Suzhou, Changzhou, Zhou Shan, Dongguan China. Jwell has become the premier supplier of extrusion lines and reliable business partners. Welcome to drop in us.
Q2: How many brands does Jwell Machinery own?
A2: Jwell Machinery owns more than 20 subsidiaries, China famous brand JINHAILUO, JWELL, BKWELL, DYUN are our Trade Marks.
Q3: If we don't find what we need from your website, What should we do? Do you make extrusion lines as per customers' specific requirement?
A3: Yes, we can provide bespoke service to customers with specific requirements. You can send the detailed requirements by email. We will check if we can develop them. We develop new machinery every month, and some of them may not yet be updated on our website.
Q4: How do you ensure your machinery and service quality?
A4: Our machines taking the European standards and follow the Germany type of business, we cooperation with International famous brands Siemens Schneider Flender Omron ABB WEG Falk Fuji etc. Our company continuously imports over 1000 international first-class high precision processing equipment such as multistage machining centers, NC lathes and CNC milling machines from Korea, Japan etc. All our processes strictly adhere to CE certification, IS09001 and 2008 quality management system. And we have 12 months quality warranty time. We testing the machine performances before each delivery. Jwell service engineers will always be here for anything you needed.
Q5: How can I order and make payments?
A5: Once clear your requirements and determined extrusion line is ideal for you. We will send technical solutions and Proforma Invoice to you. You can pay via TT bank transfer, LC as you like.
Q6: If we find your bank account or email different as before, how should we respond?
A6: Please don't send the payment and double check with us before arrange payment (Bank details will be listed in every piece of proforma invoice.) We are only responsible for email sent
Q7: How long is the delivery date?
A7: Usually it takes about 1 - 4 months depends on different machinery upon receipt of order advance payment.
Q8: What is your Minimum Order Quantity?
A8: One. We provide both customized extrusion lines and technical solutions. Welcome contact with us for technical innovation or improvements for your future purchasing plan.
Q9: What is your production capacity?
A9: We produce more than 2000 advanced extrusion lines every year world wide.
A10: What about shipping?
Q10: We can send the small spare parts by air express for urgent matter. And the complete production line by sea to save the cost. You can either use your own assigned shipping agent or our cooperative forwarder. The nearest port is China Shanghai, Ningbo port, which is convenient for maritime transportation..
Q11: Is there any pre-after sale service?
A11: Yes, we support our business partners by pre-after sale service. Jwell has more than 300 technical testing engineers traveling worldwide. Any cases would be responded with prompt solutions. We provide training, testing, operation and maintenance service for a life time.
Q12: Are our business& money safe with Jwell Machinery?
A12: Yes, your business is safe and your money is safe. If you check China company blacklist, you will see that it is not contain our name as we never crook our customer before. JWELL enjoys high reputation from the customers and our business and customers grows year by year.
Suzhou Jwell Poly Engineering Co., Ltd
Add: DongLin Industrial Park Chengxiang Taicang Suzhou China 215400
Contact: Ms. Lily Xu (Sales Manager)
+86 158 0622 5887
Web:jwellmachinery.en.made-in-china.com
Jwell-PLA PET Plastic Biodegradable Sheet Recycling Plastic Cup Making Extrusion Machine for Food Packing|3-D Printing|Garbage Bag|Agricultural Mulch Film