CE Standard High Filler Masterbatch Compounding Pelletizing Machine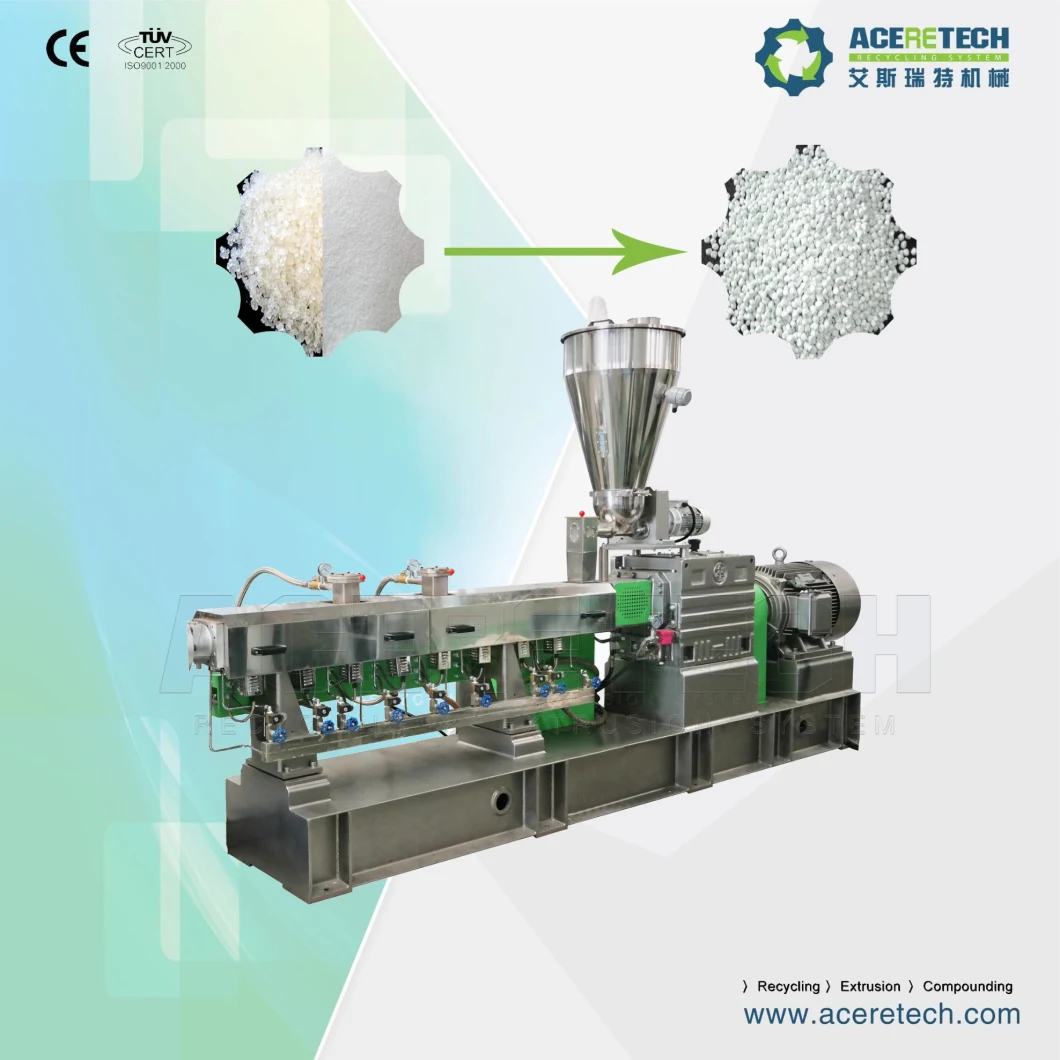 Product Description:
Filler master batch is composed of various additives, filler (example: CaCo3, Talc, Titanic, etc.) and a small amount of plastic resin carrier, produced by mixer, twin screw extruder and pelletizing. It's used to facilitate the operation during plastic molding, blowing process, etc.
Generally, we use the special type of extruder to produce this kind of filler master batch: ATE Twin Screw Extruder. ATE Series Co-rotating Parallel Twin Screw Extruder consists of motor drive, torque distribution gearbox, processing section, temperature controlling units, die section and down-stream pelletizing system, etc.
Specification:
1.
ATE Series Compounding and Granulating line for Filler Master Batch
Process

Filler master batch compounding and granulating

Application

15-20%PP, 80-85%CaCo3, 5%additives




Master batch: CaCo3+additives+ PE/PP carrier

Output

40-1500kg/h, depending on the condition of raw




Material, formulation and processing, etc.
2.
Main machines included in production line
NO.

Name

1

SHR500A High Speed Mixer

2

Screw Loader

3

Two-stage side feeder

4

ATE series Twin Screw Extruder

5

Electric Control System(cabinet)

6

Air-cooling Pelletizing System/ Water-ring Pelletizing System

7

Lifting-type drying hopper/

Cyclone separator, Air-cooling vibrating screen
Introduction of parts of ATE Twin Screw Extruder
ATE Twin Screw Extruder adopts modular design principle, component standardization manufacturing, which can present stable and reliable performance. Thanks to the modular principle, ATE extruders can provide highly customizable solutions according to customers' process and special requirements. Based on different output torque grade, ATE series extruders have basic type and efficiency type.
Process section includes barrels, screw shafts, screw elements, individual temperature heating and cooling unit. Barrels and screw elements are designed in block principle.
Block structure allows the screw elements combine and sequence optimized to realize the process:
Conveying-Plasticization- Compounding & Dispersion- Homogenization- Degassing- Pressure building
Also Block structure allows the barrels adjust freely to the fit the process requirement.
Based on different process position, ATE extruders have different barrels type: feeding barrel, side feeding barrel, close barrel, open on top barrel, vacuum vent barrel, etc. According to the different jobs' requirement, barrels' materials can be nitride steel or bimetallic steel.
Multiple cutting systems can be combined with ATE Twin Screw Extruder, such as strands pelletizing, hot-face cutting and under-water pelletizing, etc.
Both Instrument control and PLC control are available to apply in the ATE electrical controlling system. All the key electrical parts adopt European brands to guarantee the controlling system with significant and stable performance.
Flow Chart
Main technical specification
Machine Size

Screw Diameter
(mm)

L/D

Screw Speed




Max.(rpm)

Motor power
(Kw)
Torque
per shaft
(Nm)

Specific torque


T/A3
Throughput rate
(kg/h)

ATE35

35.6

32-64

600

15

115

4.2

40-80

ATE52

51.4

32-64

600

55

415

5.2

150-250

ATE65

62.4

32-64

600

90

675

4.8

200-400

ATE75

71

32-64

600

132

990

4.6

300-700

ATE95

93

32-64

600

315

2365

5

550-1500
Advantages of filler master batch
Reduce costs

Reduce product shrinkage

Increase the hardness of the product
Advantages of the production line
1.
It can produce high-quality, high-quantity filler master batch
2.
It works with high efficiency
3.
It's computerized with high automation
Why choose us
Lower investment cost for a high quality and durable machine;

Low energy consumption with high production output;

Overseas installation and training are available;

Machine warranty with spares in stocking and in-time delivery;

Fast machine delivery and installation: AceRetech produces on an average of 10 sets of plastic machines per month and can deliver the machine faster than most manufacturers. The regular delivery time of an AceRetech recycling machine is 60 days.